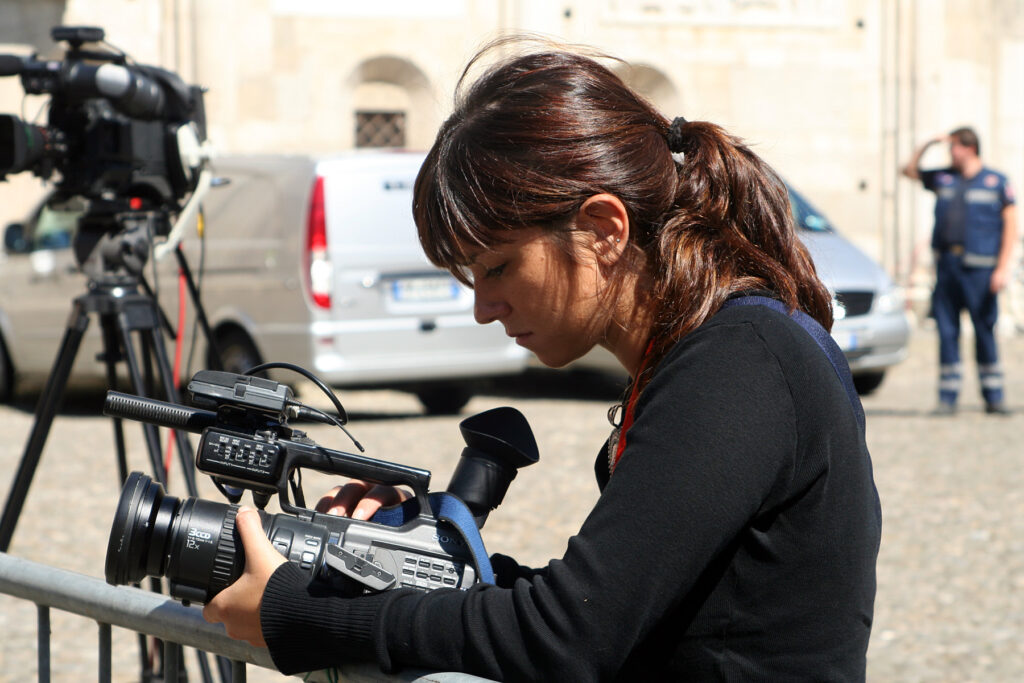 In the past, we've discussed some of the different job roles at TV stations, but not every graduate with a broadcast journalism degree works in television or radio permanently. Studying broadcast journalism provides graduates with a wide variety of skills that can be useful in other areas of the news business, or different fields entirely.
Why Some Broadcast Journalists Change Careers
The average Millennial changes jobs every 4.4 years, according to this Forbes article from a few years ago. That's an average for all workers; individuals in television news often change jobs every two or three years, especially if they're in on-air positions where contracts are typically renegotiated that often. While some people may work at one station for twenty years or more, it's much more common to change stations and job titles at least a few times.
Some broadcast journalists acquire new job titles as they work their way up to a career goal—say, evening news anchor in a "Top 100" station. However, some broadcast journalists leave the broadcasting business entirely, moving to print journalism or related fields like PR, marketing, or photography.
Reasons to Explore Other Options
There are a lot of reasons people look for creative jobs in a different field. Sometimes journalists enjoy the job, but after a while they realize they'd prefer a career with a nine-to-five schedule. In television news, dayside schedules usually start around two or three in the morning; those working evening shifts usually start work some time in the afternoon, and stay until well after the ten or eleven o'clock news. Larger stations may have a mid-day shift that starts in the morning and ends after the six o'clock news—but those shifts are highly coveted and someone still has to work the other time slots.
Some journalists change careers for financial reasons. Most people start their broadcast careers in smaller markets where pay is generally low, even for on-air positions. There have been situations where a reporter and three photographers were all living together because none of them could afford his own apartment—and there were frequent arguments in the newsroom about who was late with his share of the rent.
Working your way up to a bigger market is a way to improve your pay grade, but if you've chosen to stay in a city to be close to a significant other, family members, or friends, you might find that a career in television news or radio may not help you to reach your financial goals in a timely manner—if ever.
Sometimes leaving broadcasting can be an involuntary situation, especially if you work on-air. Stations often decide not to renegotiate contracts for reasons anchors and reporters have little or no control over—they may want someone younger, someone who appeals to a different demographic, or someone who does better in ratings. Often station managers think they can improve ratings by replacing an anchor with "a new face." A non-compete clause in your contract may keep you from doing on-air work in your DMA for a certain period of time after the contract ends—usually two or three years. Again, you might find work in another market, but if you don't want to move, you'll have to consider another career choice.
Different Career Paths In Journalism and Other Fields
Regardless of your reasons for leaving a broadcasting job, a broadcast journalism certificate or diploma provides a versatile set of skills that will serve you well in many fields.
Public Relations and Marketing
Many public relations firms like to hire former journalists. Someone who has evaluated what is and isn't newsworthy is in the perfect position to shape publicity efforts. You know what caused you to ignore a press release, and you also know what made you pursue a story, or pitch it to your supervisor. These skills could extend into a marketing or advertising career, where experience with a TV station's production of local ads is also helpful.
Sales
The connection may not seem obvious at first, but journalists also build skills that boost sales careers. In a broadcasting job, you spend a lot of time trying to talk people into things—granting interviews, telling you the truth, and giving you a useful tip. Building rapport with interview subjects leads to better, more emotionally honest soundbites; in a sales jobs, it leads to a lasting relationship with customers, which ultimately leads to more sales.
Corporate
Many large corporations have their own in-house "news" operations. In order to keep employees at far-flung locations across the country or around the world up-to-date, they produce their own "news programs." These can be half-hour programs suitable of viewing on desktop computers, or short stand-alone stories that can be watched on mobile devices. The era of the "company newsletter" is long past, replaced by corporate video. Large companies also produce Video News Releases (VNRs), which supplement or replace convention press releases. Sometimes they consist entirely of raw footage stations can then edit as they choose, while others include a fully produced package that a station need only insert a voiceover based on an accompanying script. As more and more people use full-motion video as their primary source of information, video producers will continue to play a key role corporate communications.
Photography and Documentary Films
People who have worked behind the camera sometimes find rewarding careers using their skills in other photography or videography jobs. You might work in still photography, possibly for print or online news sources. If you like the idea of working for yourself, you could do some freelance work, taking video of weddings and other personal events people want professionally recorded. If you prefer a steady paycheck, you might work for a business that provides these services.
Print Journalism, Blogs, Vlogs, and Websites
Some broadcasters may move to print or online news sources. You might enjoy the opportunity to write longer, more in-depth stories—especially for websites, where there is neither a time limit like you would have in broadcast, nor a page space limit like you would find at a newspaper. Although your editor will still give you word count limits to keep you focused on the most interesting parts of the story, you will have the opportunity to provide more detail, or different perspectives. While newspapers and magazines do have page-space limits, they still pride themselves on providing a more in-depth look at news than television or radio.
You can also choose to start your own blog or vlog (video blog) about news—or a particular type of news, like entertainment or sports. Some former journalists enjoy using their writing skills to tell stories in their own way, while others like being able to editorialize, instead of trying to keep their opinions out of their news coverage. Your skills in shooting and editing will also come in handy if you want to do a vlog or post video.
Successful blogs and vlogs are sometimes financially rewarding—however, it usually takes time to build a following, and not every video goes viral. You should plan to have a day job while building your blog into a viable source of income.
[su_note]Learn more about the School of Broadcast Journalism at the New York Film Academy by clicking here.[/su_note]
by nyfa