Students, faculty, and staff gathered in the New York Film Academy Theater to attend an evening centered on the life and work of legendary actor-producer Burt Lancaster. The event opened with a presentation introducing Lancaster to those not yet familiar with his work. Following this was a showing of The Professionals (1966, Richard Brooks), a Western adventure from the "American gunfighters in Mexico" subgenre, which starred Lancaster, along with Lee Marvin, Jack Palance, Robert Ryan, and Claudia Cardinale.
Finally, students participated in a Q&A with Lancaster's daughter, Joanna Lancaster, a successful film and television producer in her own right—her credits include Little Treasure (1985), the classic comedy Ruthless People (1986), and the reality TV series COPS(1989)—as she gave unique insight into her legendary father. NYFA Film Studies instructor Paul Laverack, currently teaching a course on Burt Lancaster, conducted the opening presentation and moderated the discussion with Joanna Lancaster.
Burt Lancaster grew up in the slums of East Harlem, left home to pursue a career as a circus acrobat, and served in WW2 as an entertainment specialist in the Italian campaign. After the war, a chance meeting in an elevator in New York led to the audition, which soon launched his movie career with The Killers (1946), the crime thriller that rocketed him to international stardom at age thirty-three. His film career stretched across the next half-century, and includes a number of iconic performances, such as the role of Sgt. Warden in the Best Picture Oscar-winner From Here to Eternity (1953), which includes Hollywood's most famous love scene—Lancaster and Deborah Kerr embracing on the sand as waves crash over them.
Lancaster also memorably headlined Criss Cross (1949), The Crimson Pirate (1952), Trapeze(1956), Birdman of Alcatraz (1962), The Train (1964), and Atlantic City (1980), among many others. He was nominated for the Best Actor Oscar four times, and took home the golden statuette for the title role in Elmer Gantry (1960). In addition, Lancaster was foremost among the pioneering crop of star-producers in the 1950s, with his Hecht-Lancaster company producing several successful films, most notably Marty (1955), the Best Picture Oscar-winner, and the first American film to win the Palme d'Or at Cannes.

"My father thought Montgomery Clift and Marlon Brando were the pre-eminent actors of their generation," Joanna Lancaster said during the discussion after the film. "They were the only two men whose talent intimidated him." In response to a question from acting student Daniel Pareja about Marlon Brando—whose career intersected with her father's at several points—Ms. Lancaster said, "Dad really liked Brando, on a personal level. They were both bleeding-heart liberals, and they were often involved in the same political causes. Brando called the house a couple of times when I was a kid, but I had no idea who he was, at the time."
When discussing her dawning awareness of her father's status as a movie star, Ms. Lancaster said, "Whatever circumstance you grow up in, that's normal to you. My parents made sure that all of us kids went to the same school throughout our elementary years, and we had a normal family life, as much as possible. It was really in the way other people reacted to my dad that I saw what he meant to them. I remember one time, we were all out at dinner, and a woman approached our table. She was trembling. She knelt beside my dad and told him, 'I worship you.' When the woman got up and left, my dad looked at us and wondered aloud what the hell had just happened." She added with a knowing chuckle, "My dad had a healthy ego, and he certainly liked the attention much of the time, but he tried to stay grounded."
Lancaster was famous for doing virtually all of his own stunts across a long list of action-adventure films, and his daughter spoke about the importance physicality played in his life. "He ran every day, at the track at UCLA." Her father also "had this twenty-foot rope connected to the ceiling of his office, and he would scramble up the rope whenever he felt like it," to keep his upper body strong. Ms. Lancaster smiled as she remembered her father once using that rope as a test for her would-be boyfriend, challenging the young man to climb to the top if he wanted to go on a date with Joanna. Though the boy was "clearly on downers," Ms. Lancaster recalled, "somehow he did it; got right up to the ceiling." When the boy came back down, her father gave his blessing to their relationship. "Getting my dad's approval," Ms. Lancaster concluded with a laugh, "completely squashed my desire to date the guy after that."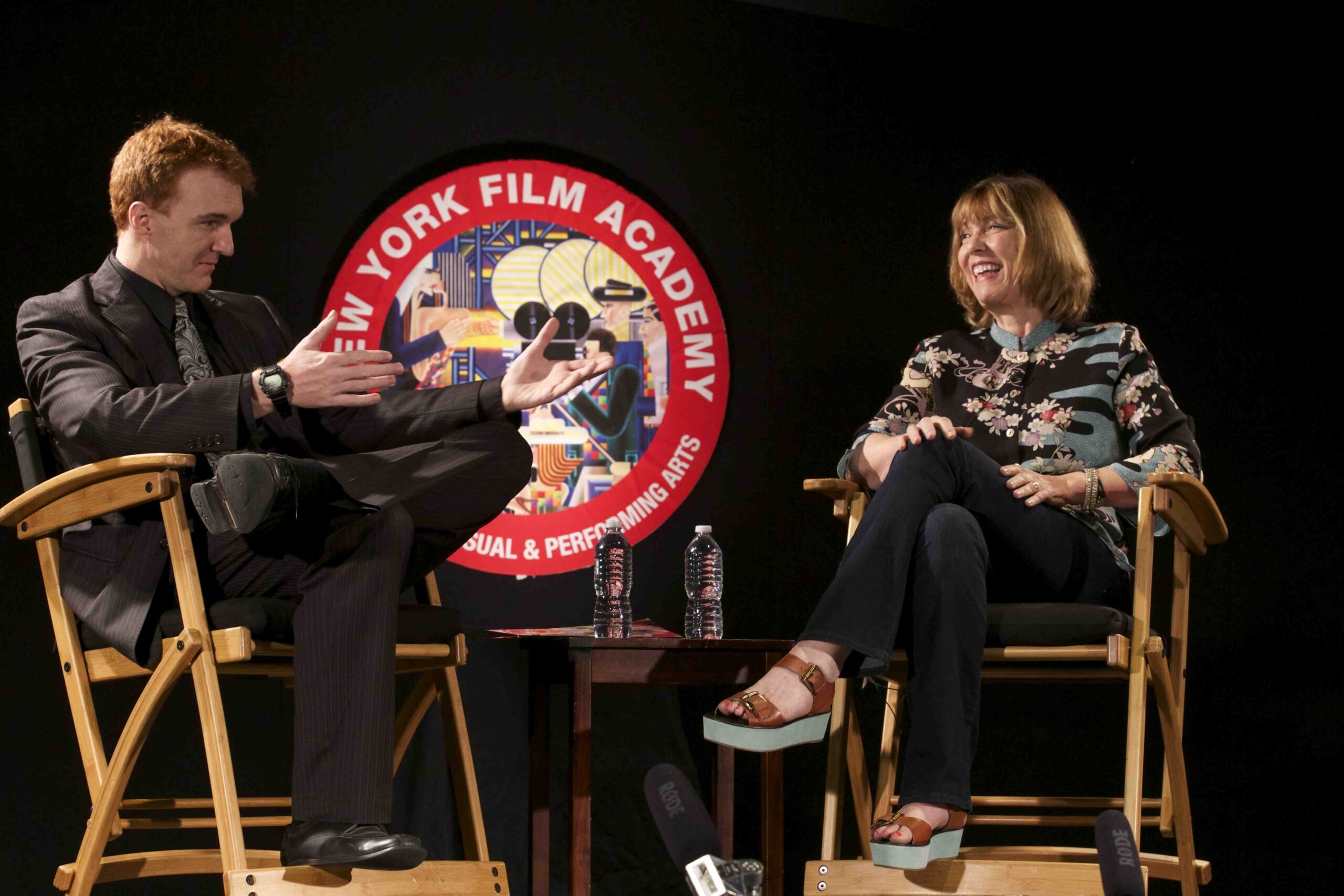 When the evening's discussion was over, several students approached Ms. Lancaster and her sister Sighle—who was key to putting the event together, and who helped jog Joanna's memory from the audience—to express appreciation for their father's work.
Acting student Pete Gomes told the sisters that The Swimmer (1968) was his favorite of all the Burt Lancaster movies his class had watched this semester. Joanna expressed some surprise at this, as she found the mysterious, modernist film often connects most strongly with men in their forties who are experiencing a midlife crisis. "I'm getting mine out of the way early," Pete replied. "Now when I hit my forties, I'll just Burt my way through it."
by nyfa