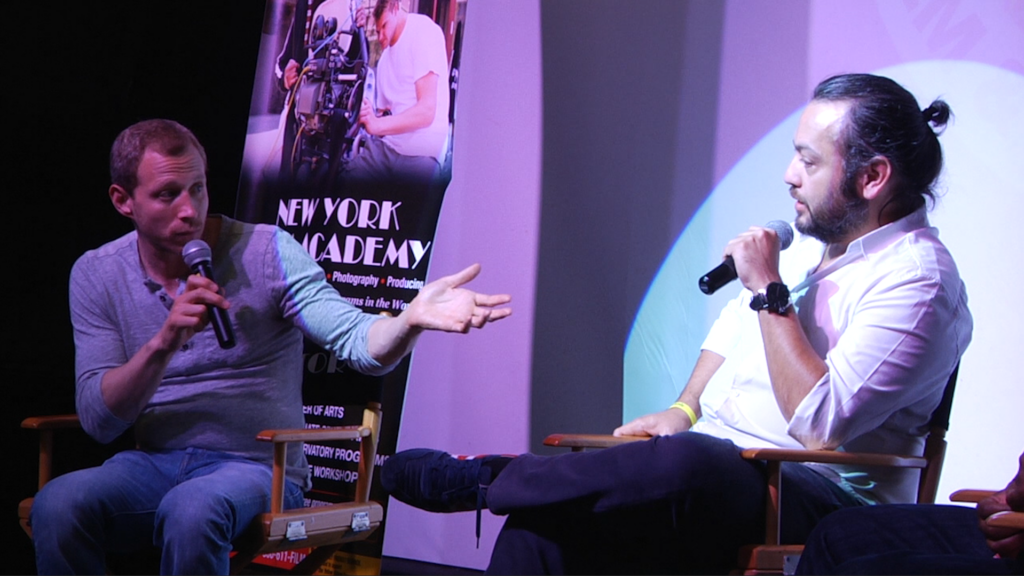 This past Monday, June 23rd, the New York Film Academy in Union Square played host to an early screening of the upcoming New York indie, In Stereo, which was directed by first time director Mel Rodriguez and stars Micah Hauptman. Both Rodriguez and Hauptman joined us after the screening for an intimate conversation with NYFA Instructor Randall Dottin about the production of their film, as well as their triumphs and struggles in this competitive industry.
The film initially started out as a short film, which writer / director Rodriguez said, "came out of frustration and necessity." It was at a festival screening in Austin where producers were hooked and made the feature version of his short a reality.
Shot entirely in New York City, the entire feature was filmed over only fifteen days! In addition to our gracious guest, Micah Hauptman, In Stereo stars Beau Garrett, Aimee Mullins, Mario Cantone, Maggie Geha, and Melissa Bolona. The story surrounds David (Micah Hauptman) and Brenda (Beau Garrett), who are perfect for each other, and everyone knows it…except David and Brenda. After their painful break-up, they each endure an individual purgatory (for David, a self-destructive artistic endeavor, and a relationship with an immature beauty who has taken to sleeping with his best friend – for Brenda, a failing acting career, an eviction notice, and a boyfriend who just doesn't do it for her for Brenda) until chance brings them together on the streets of New York at the worst possible time. David invites Brenda to the opening of his first photography exhibit and it sets the stage for a night of drinking, flirting and truth-telling, leading to an untraditional and risky proposal of how they can be together… without getting back together.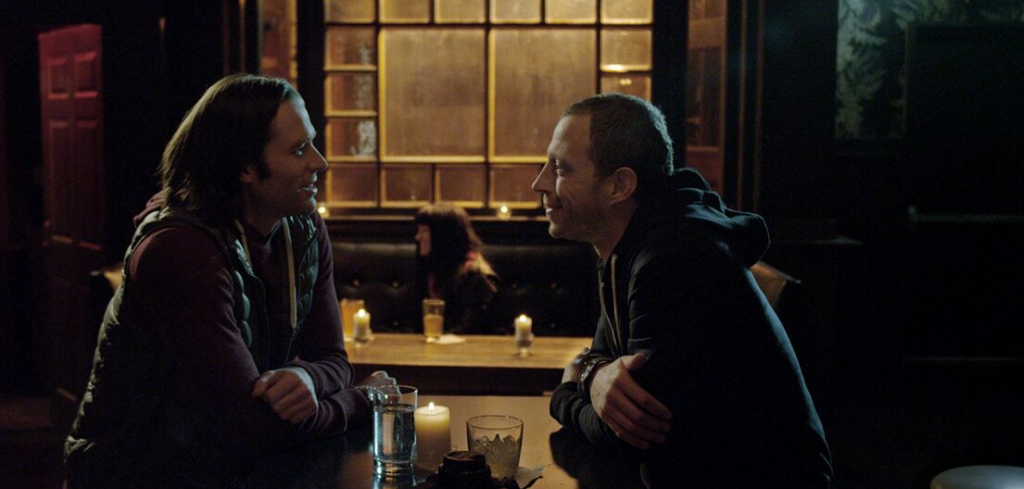 A sharply observed, un-romantic comedy by writer/director/editor Mel Rodriguez, In Stereo is a stylish and striking first feature. With an innovative structure and bold performances, it offers an unflinching look at the complexity of modern relationships.
Both Rodriguez and Hauptman humbly recalled their roots in the industry, Hauptman admitting he'd been working as an actor for twelve years until he really considered himself having a career. In fact, it was a student film that really propelled his career to the next level. "Always be focusing on the work," he advised.
As for Rodriguez, his directing career really blossomed from his work as an editor, in which he says, "Editing is film school. Editors tend to make the best directors." While he had established himself as a premier editor in film and television, his true passion was to be a director. With the upcoming release of In Stereo, Rodriguez has made that dream a reality. Now, he intends to move further into larger projects — an action, thriller set on the Mexican border is what he hopes to shoot next.
In the meantime, be sure to check out this very realistic New York City relationship film, which opens in theaters starting July 3rd, 2015!
by nyfa