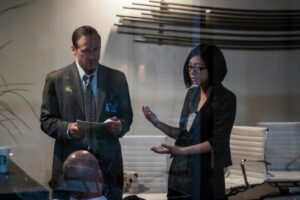 Congratulations to the MFA Filmmaking graduate Jing Wen, whose film A, B, C, or D? won Best Short Film and Best Cinematographer (Xiaolong Liu) at the Golden Pomegranate International Film Festival in China. The film will also screen at Cannes in the upcoming Cannes Short Film Corner, where many of our students will have the chance to showcase their work to the public for the very first time.
As most of know or remember, A, B, C, and D are the choices in a multiple choice test. This is precisely where Wen came up with the title for her film.
"When we were young, there was always someone who could give you the right answer — maybe the teacher, maybe our parents," recalls Wen. "When we grow up, A, B, C and D seem like the different choices in our life. What should we choose at every corner, or which one could lead us to success? Only you can discover the answer."
In Wen's film, her main character, Gary, is a 45 year-old man — an age at which most people lose their energy to pursue lifelong dreams due to the pressures of family, work, money and responsibility. The conflict occurs after Gary is notified by his department manager that he will need to the blame for a particular mistake. This leads Gary with a very difficult decision: should he tell his boss the truth or keep silent?
You can find out his decision at Wen's next screening of A, B, C, or D? this May at the Cannes Short Film Corner.
Wen is currently set to direct The Disappeared Fish, a forthcoming feature comedy film from Bai Ge Zhuang Film & Media Company.
by nyfa