In collaboration with Netflix, New York Film Academy (NYFA) recently wrapped up its first Assistant Editor Professional Development Course in India. Designed to prepare professionals for the needs of the Indian market, NYFA's course focused on the processes and protocols of assistant editing. Course participants completed in-class modules, going in-depth on specialized topics to help strengthen the assistant editor core in India.


Shawn Sullivan, one of NYFA's senior editing instructors at the Los Angeles campus, led the editor's training through each module. Shawn, who is an Avid Certified Instructor with the Media Composer film editing software, also previously worked for Apple and is Final Cut Pro Certified by Apple. Working closely with the NYFA and Netflix teams, Shawn was able to make the digital editing course an absolute success.
"The Netflix team laid out a foundation for us to build upon," said Shawn. "All the preparation that went into it by the Netflix and NYFA teams shows the level of commitment and professionalism by both teams."
Netflix and NYFA in India: Recapping the Assistant Editor Professional Development Course
The working editors in the course had a range of preexisting professional skills and real-world experiences. Throughout the workshop, they enhanced their communication and technical skills, quickly learning to apply new techniques to their workflows.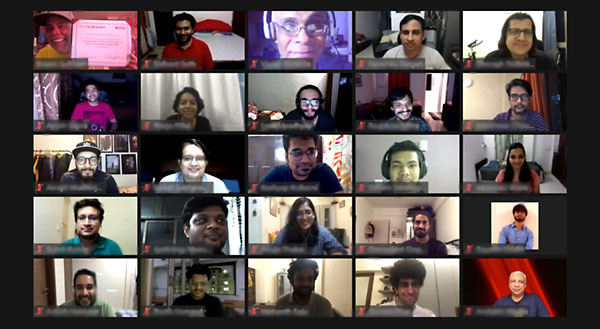 Sidhant Seth called the workshop "really informative and engaging." "Every class we learned something new," he said. "This is the first time I have attended a class, and I am able to instantly apply its learning into my daily practice."
During the program, the participants learned new protocols and processes, such as using a Code Book, that are becoming industry-wide practices in the United States. In addition, they explored Adobe Premiere Pro, Avid Media Composer and its new features, along with other industry-standard editing software, such as ScriptSync. NYFA, which offers additional online training in Adobe Premiere Pro and Avid Media Composer, is also an Avid Learning Partner.
"[It was] a wonderful program for Avid users," said Saikat Sekhareswar Ray, one of the editors. "It took all its unused features into consideration and helped people understand the hidden potential of the software and how it may effectively help organise projects without much labour."
Participants also attended a series of guest lectures that supported and accentuated the concepts of the course. Rob Burnett, an editor on The Office, The Mindy Project, Space Force and Upload, discussed his path through the industry from Assistant Editor to Editor. Throughout the course, participants learned from real industry professionals, which was a highlight for many.
"This has been a wonderful experience," said Anuja Thakar, another editor in the course. "I got to learn a lot of new processes and develop my skills. Apart from that, being able to interact with industry professionals was a huge boost for our confidence."
By attending the workshop, individuals also got the chance to expand their personal networks in India's growing editing community. In addition to learning new skills and techniques from the Netflix and NYFA teams, participants could also connect with each other.
"This program has taught me valuable skills to upgrade my editing skills and shall help me to transition to higher roles," said Aikeshwar Chaudhry. "It was a great experience to get to know people from NYFA and Netflix India. Plus, the best thing I would say is that now I am a part of a community of young and emerging editors with whom I will share a lifelong bond. Which, for me, is the most valuable experience."
Guneet Dhar, another editor, agreed. "I am extremely pleased and satisfied by all factions of the program," he said. "It was organised with great clarity in thought, and that's what helped us in learning the course with ease. It felt like college without the pressure. It was like sitting with friends discussing your professional issues and working on it. I'm so glad to have met everyone I did here."
"I was so proud of this group of professionals that took part in the course." Shawn explained as he reflected on the experience. "They came to every class focused and ready to go. As we neared the end of the course, I witnessed them coming across problems they would have previously found challenging but instead, they were finding an immediate solution. This will take them to the next level of success."
Amitabh Shukla, Manager, Post-production, Netflix India, said, "The Assistant Editor Professional Development Course provided an immersive experience, global best practices and world class faculty from the New York Film Academy for the next generation of Indian storytellers. We want to continue to invest in the Indian creative ecosystem by offering the right tools, resources and knowledge so the creators can do the best work of their lives with Netflix."
NYFA is excited to continue bringing opportunities for growth and learning to aspiring visual storytellers and are looking forward to more collaborations in the future with Netflix.
Advance Your Editing Skills at NYFA
At NYFA, students can build fundamental skills in film editing and visual storytelling, giving them the experience necessary to edit feature-length films, television shows, documentaries, as well as social media and web content. Throughout our hands-on programs, students work with industry-standard equipment and work with distinguished faculty who possess professional experience as television or media editors at top networks, including ABC, CBS, NBC, PBS, ESPN, and The CW. At the end of our editing workshops, many of our students have a selection of their best work to continue building their editing reel.
As The New York Film Academy strives to make education in digital editing and the visual arts accessible to the most diverse, international, and broadest spectrum of students, we look forward to future creative collaborations with Netflix. To learn more about the editing workshops available at NYFA, explore our available digital editing programs.
by nyfa