Whether it's a film, news segment, documentary, tv show, or online content, Editors are the artists that use their creative and technical skills to weave together a story's narrative. For Fabrizio Famá, the work he does in post-production is impactful and powerful and can help "affect people emotionally." Originally from Catania, Sicily, Fabrizio came to the US and was hired by Thin Edge Films. He then worked as the senior editor on the musical feature Thirsty, which won Audience Choice at Boston LGBT Film Festival, the Audience Award at Harlem International Film Festival, as well a Festival Prize for the Portland Film Festival.
NYFA Digital Editing Faculty, Fabrizio Famá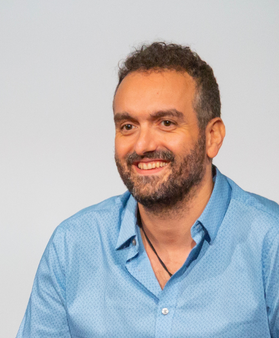 He teaches in all departments at NYFA (Filmmaking, Cinematography, Documentary, Post Production, and Producing), and also works as a video editor for shorts, features, commercials, and online videos. He's worked for LogoTV, MTV, and VH1.
We spoke with Fabrizio about his projects, experience working at NYFA, and favorite aspects about working in New York City.
NYFA: How and when did you first get interested in post-production and filmmaking?
It was right after high school I started to produce, edit some short films with my director friend back in Italy, then when my work started to be screened around Italy and I realized how powerful can Editing be and how much I can affect people emotionally just by the way I was editing a certain scene (shot length, cut speed, sound loudness).
NYFA: What have been your favorite projects/productions to work on to date?
Definitely, my favorite is a feature film I worked on as Lead Editor and Colorist. "Thirsty" is a biopic Musical film. It was also one of the first big projects I worked on after I moved to NY, and it has a special value to me. It was through this project that I met wonderful people in the industry with whom I still work with.
READ MORE: NYFA Alum Andor Zahonyi Writes & Directs Festival Sci-Fi Favorite
NYFA: Tell us about your time at NYFA.
Well, being at Nyfa feels like being part of a family. I was a student not so long ago (2010), and I took post-production classes at NYFA's old location at Union Square. That experience changed me in so many ways. In 2014 I decided to become a TA in the editing lab. Then my supervisor saw something in me and asked me if I wanted to become a teacher. I took that as a great opportunity to step up in my career, and that's how I'm at this point in my career.
NYFA: What are your favorite courses to teach?
The Post Production program.
NYFA: How would your students describe your teaching style/methods?
All my students love the way I teach them, and I'm not the one to tell, If you read my past reviews, they all have great words for me. Sometimes I even received emails from former students who still thank me for how I taught them. My teaching methods are not always the same; I always prepare my classes based on the feedback I get from my students. I try to understand if they are familiar with the editing concept, and from there, I start my classes. I also always teach my classes with enthusiasm, and I'm not saying that I am always at 100% of my energy, but regardless, I always put enthusiasm because I want my students to feel enthusiastic as well and understand how incredibly awesome it is becoming an editor.
READ MORE: From Marketer to Production Manager: Q&A with NYFA Editing Alum Alessandra Auster
NYFA: What are your favorite aspects of the film community in New York?
I would simply summarize it by saying that If you love your job in films and you do it the proper way, people in NY will call you all the time and will remember you. I personally think that this is the thing about getting into the film community in New York.
NYFA: Who do you believe have been some of the most significant individuals in digital editing/filmmaking?
I personally think that the greatest names like Steven Spielberg, James Cameron, Christopher Nolan, The Wachowski Sisters, and especially Guy Ritchie were able to get full advantages of digital filmmaking techniques.
But of course, they are just a few names, the full list will be endless.
NYFA: What are some of your favorite films?
Oh boy…this is a toughie. I will simply create a top 5, and it's already hard for me…
Back to the Future (all three episodes)
Pulp Fiction
Once Upon a Time in the West
The Snatch
Zatoichi
Avatar
Indiana Jones and the Temple of Doom
Ghostbusters (the 80s)
The list is LOOOOOOOOONG….
NYFA: What advice would you give a prospective student looking to get started in post-production and filmmaking?
I would ask them: Is it truly what you love? If the answer is yes…prepare to be frustrated, angry, mad, and prepare to feel like you want to give up on editing a million times over and over again…but if you really love it, you will overcome those difficulties and bad feelings of regret and will love it even more, and you will be so grateful of not giving up on the first place.
Gain Experience in Digital Editing at NYFA
Want to develop your creative and technical skills in digital editing and post-production? Learn more about our digital editing workshops today!
by nyfa