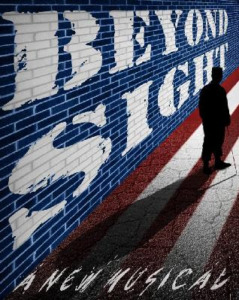 Senior Directing Instructor at New York Film Academy Los Angeles, Nick Sivakumaran's play, Beyond Sight, which he co-wrote with Jeremy Aldridge, opens Friday, April 25 at the Stella Adler Theatre in Hollywood and ends on May 25th. The award-winning creative team and dynamic cast includes Theatre By The Blind and Military Veteran artists.
Beyond Sight is the story of Jack Carter, a committed ROTC cadet driven to answer the call of duty in the wake of a catastrophic event. Blinded in Afghanistan, Jack returns home forever changed, forced to face the challenges of reintegrating into society without sight.
The source material for Beyond Sight was taken directly from the production team's work at CRE Outreach. The program began 2007 to empower military veterans and the visually impaired through the performing arts, including the highly successful Theatre by the Blind program.
"With Beyond Sight we hope to launch a larger discussion about how we treat our veterans – and drive home the point that disabilities do not define us," says Greg Shane, Artistic Director.
by nyfa