It's been a productive winter for New York Film Academy (NYFA) BFA 3D Animation & VFX student Arina Andriushchenko; just weeks after working on a stop motion animated video for the hit video game Borderlands 3, Andriushchenko has now completed work on a commercial for Dish TV.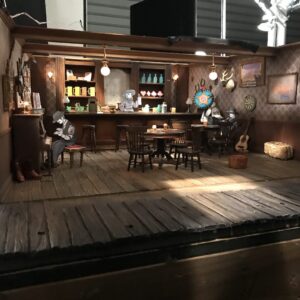 What makes Andriushchenko's productivity all the more impressive is that she's smack in the middle of studying for her Bachelor of Fine Arts in 3D Animation & VFX from NYFA's Burbank-based campus.
Like the Borderlands 3 commercial, this new project is stop motion animation, a forte of NYFA instructor Misha Klein, who worked on both ads. The ad playfully recalls the Wild West as it promotes classic western and outlaw movies for the TV provider.
The set itself was designed in 3D using Maya, but recreated in real life with plastic and foam materials. As an assistant for the art department, Andriushchenko worked on some set decorations and set dressings for the video. She also worked on miniatures and small jewelry mounts (bracing) that allow the models to move. At one point, she even improvised by creating a new size for the drill since no existing sizes exist for such small objects.
[su_carousel source="media: 33621,33620,33617,33618,33622,33623,33624,33625,33626,33627″ limit="60″ link="lightbox" target="blank" width="780″ height="360″ title="no" autoplay="0″]
New York Film Academy congratulates BFA 3D Animation & VFX student Arina Andriushchenko on her work and encourages everyone to check out the Dish TV stop motion video here.
by nyfa