What does it take to land a gig working on one of the biggest movies of all time? If you're New York Film Academy alumnus Francesco Panzieri you simply do what you've always done: Work hard, work fast, and produce work of impeccable quality.
In conversation with The Force Awakens senior digital compositor, who is at once marked by his humility and quiet confidence, it soon becomes overwhelmingly clear that you are talking with someone who's had a lifelong fascination with visual effects. He was exposed to them as a young child through such classic films as the Indiana Jones movies and the original Star Wars trilogy, films that "raised him as a child."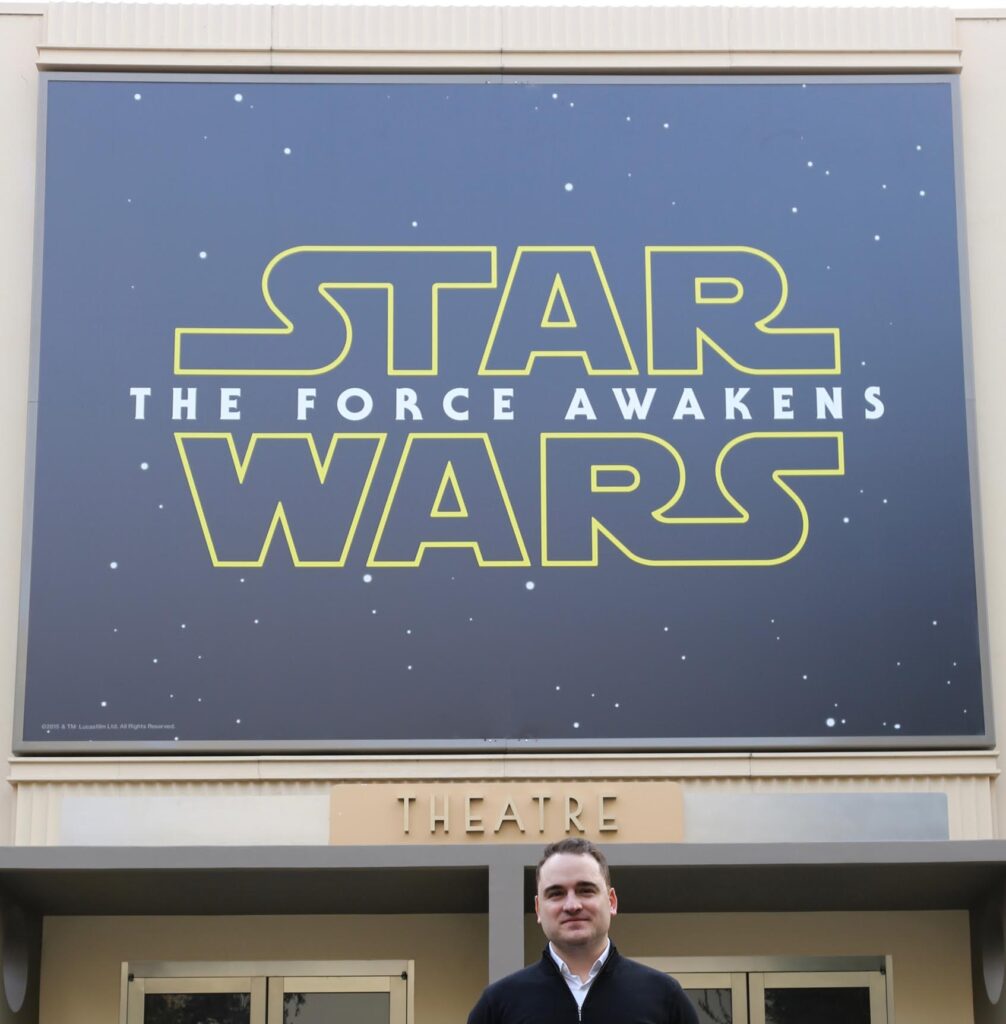 Thus, when Francesco was called into the offices of Bad Robot, the production company owned by JJ Abrams, director of Star Wars: The Force Awakens, he knew that he was standing on the precipice of realizing a lifelong goal of his, remarking that "it's mind-blowing because it's one of my biggest dreams."
So how does one go from NYFA to working on the biggest film in the galaxy? In Francesco's case, possessing over seven years of professional experience and the reputation for doing high quality work at a very quick pace—something he picked up working on television shows like Sleepy Hollow and Limitless that require a lightning-fast turn-around time—earned him kind words on his behalf from a "good soul," words that soon had him in the offices of Bad Robot.
"I told [my friend], if you guys ever needed someone, I would love to help," says Francesco. As it just so happened to turn out, Bad Robot was indeed looking for a team of experienced, dependable, and fast-working VFX artists who could accomplish the massive workload of The Force Awakens not only on time, but also with peerless perfection. "One day I received an email from Bad Robot that said there is someone praising you…and within 24 hours I was there for an interview."
When Francesco was first called in for an interview, the project was still undisclosed, although Francesco knew in his heart was it would be. This lead him to going to his current employer and asking that he be allowed to work on this Non-Disclosure Agreement-sealed project, knowing that his work on the film would bring a new level of prestige to the company despite not being able to say what the project actually was (his employer of course agreed).
When it came to working on the production itself, Francesco found himself in a pressure-cooker situation where he worked twelve hour days for seven days straight over the course of five weeks, up until the final edit was completed just a couple of weeks prior to the film's release. Despite the high stakes, Francesco remained positive throughout. As he said, "Every morning I went to work with the smile of a child who is finally able to fulfill one of the most desired dreams of his childhood."
This childish wonder was certainly aided by the overriding ethos of Abrams' vision, which focused much more on practical effects and bringing to life the spirit of the original trilogy. "The great thing about Episode 7 was that it was mainly shot [using practical effects]. I had hundreds of shots on my monitors with an X-Wing and I had BB-8 running on the monitor."
This mention of BB-8 is where we first learn one of the secrets of The Force Awakens as Francesco talks about his work removing the rig from BB-8, which was in fact a puppet operated by a master puppeteer dressed in all green in order to make keying him out, or removing him, from the shots much easier.
Another fascinating tidbit that Francesco shares is the fact that The Force Awakens had the secret name of AVCO, which was the name of the cinema where Abrams first saw Star Wars. Of course, secrecy was at the heart of the film's production and Francesco and his fellow colleagues received a lengthy rundown from a head of security at Disney who advised the VFX team to keep their phones away from their desks and forbade them from taking any pictures or sharing any media whatsoever.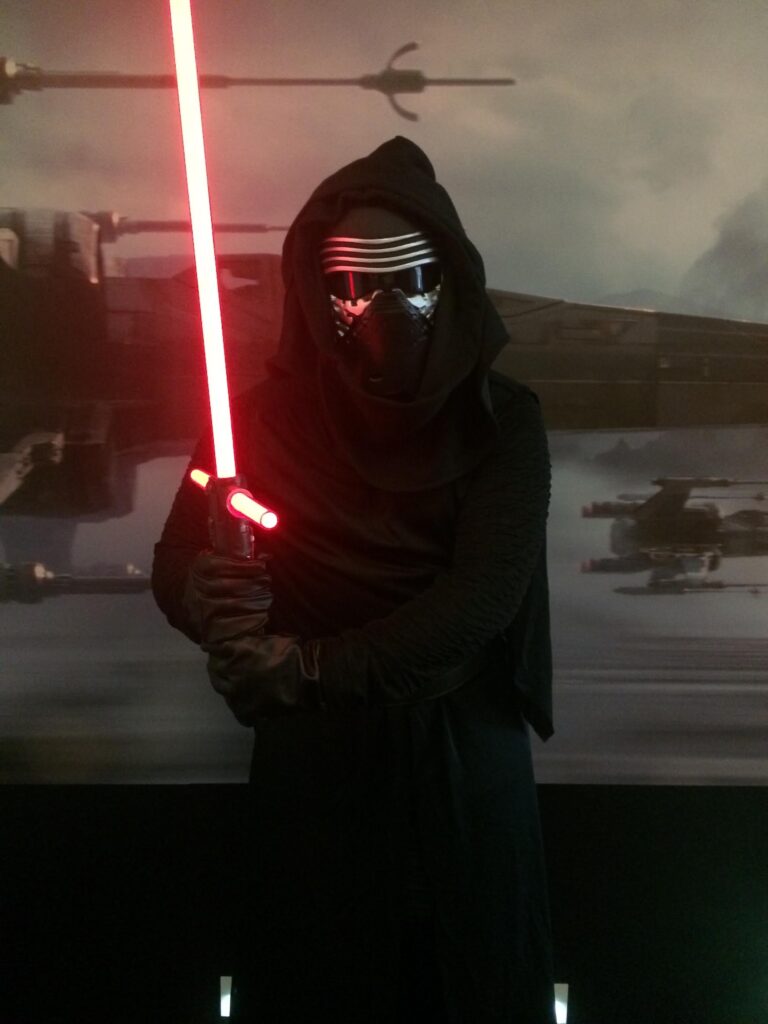 Generally speaking, most of Francesco's work focused on the scenes in the desert when Rey, played by Daisy Ridley, dismounts her speeder. However, his excitement spikes when talking about one shot particular: "My last shot before wrapping up the movie was on an alien-character in Maz Kanata's cantina, and it took me 7 days to ultimately complete what was a very, very tough paint job on 25 frames of the movie. I probably consider that as my favorite shot because it challenged me to give everything I got and it also stoked and left many people amazed who were pushing the shot away from their lists as they were intimidated by the amount of time required and difficulty of such a task."
When discussing the technical challenges he encountered, he talks about the overarching high standards held by Abrams, visual effects supervisor Roger Guyett, and visual effects studio Industrial Lights & Magic. According to Francesco, "We had 6 steps of review, the effects on the whole movie were on 2,100 shots and the schedule was really tight. However, I felt [incredible] to be part of the right group of talented artists who also had a huge passion for the Star Wars universe, and that's why every single goal was achieved and nothing seemed impossible. Each time we looked exhausted or tired or challenged, our compositing supervisor would joke and say, 'We are just working on the biggest movie in cinema history!'"
As to whether he believes the new film carries on the legacy of the original trilogy, Francesco responds vehemently, saying "I think it touches the inner chords of each fan of Star Wars…I found it very touching. Even when I was watching it with everyone from Disney and Bad Robot, we were all involved together, you know, screaming and hooing at the moving. It's such a beautiful homage in the way it was done."
Of course, making his way all the way to the Star Wars galaxy is quite a feat for the Italian, who split his time growing up between the city of Pescara on the east coast of Italy and Dubai. Traveling extensively as a child, Francesco eventually enrolled in the Accademia dell'Immagine (The Academy of Image Arts) where he studied under such Italian Film legends as the composer Ennio Morricone and director Francesco Rosi. Panzieri was the odd one out early on in his studies in that, unlike his fellow students who had no clue what they wanted to accomplish professionally, he had a clear vision of what he wanted to do with his career and that was to work in VFX.
Following his graduation in 2008, Francesco's next move was to New York City where he enrolled in the One-Year 3D Animation & VFX Program at NYFA. While he is quick to credit NYFA with setting him on his current path, he also does not mince words when talking about his time in the fast-time program, stating that "NYFA was the toughest year of my life." However, despite the long days and endless experimentation with new tools, Francesco describes the program as "very hands-on and I am thankful as that kind of [fast] pace prepared me to enter the field."
It was at NYFA where Francesco truly started to realize his potential, citing faculty members as Boaz Livny and Robert Appleton as crucial figures in not just helping him to learn the software and know-how of the VFX craft, but also providing him with priceless advices. He cites Livny's exhortation to attend such industry events as SIGGRAPH as a particularly important suggestion, enabling him to go and meet recruiters face to face.
He cites his year on OPT as the "most important year of my life" as that was when he had a relatively short window to establish himself in the field and find a company to sponsor his work visa. Realizing it was now or never, Francesco made the point of making many copies of his portfolio, which he would then deliver in person to studios around town. "I was shameless," Francesco says with a slight smirk. However, this shamelessness paid out, eventually leading to his first gig, interning on Danny DeVito's web series Blood Factory, which in turn led to him getting hired to work on Clash of the Titans.
Having worked as a senior digital compositor and in the Hollywood VFX industry for over seven years now Francesco's credits are lined with the kind of prestige television and movie credits such as Mad Men, True Detective, Agents of S.H.I.E.L.D, Limitless, and For Colored Girls Only. Equal parts soft-spoken yet self-assured in his abilities, Panzieri's soft-spoken style belies a fevered intensity that has guided him through the many highlights of his VFX career, which itself was first inspired largely by Star Wars.
After all, as Francesco is quick to point out in relation to VFX artists, "Star Wars invented our profession." He goes on to describe George Lucas' trilogy, which "gave hope to many creative people," as setting off a sort of visual effects butterfly effect out of which emerged many legends and pioneers of the VFX industry. Panzieri counts himself as one of many who was inspired to pursue visual effects after seeing the original Star Wars, alongside a steady diet of video games and movies. He remembers being struck by Lucas' film when he first saw it and thinking, "Wow, how can I do that?"
In looking back at his long road, Francesco lights up when providing advice for how other aspiring VFX artists can make their way in the industry. Ultimately, for him, it's all about picking a goal and staying focused on it. As he says, "I opened in my head the door that would get me [to Star Wars] and I worked my butt off to get to that door." He adds that patience also plays a major role, stating, "You can't force something to happen. You have to create a positive energy for those things to come to you."
With another undisclosed project already under way, it's clear that Francesco's drive and commitment to his craft will continue to attract new and exciting opportunities for this young artist.
by nyfa