Jinn, the new supernatural teen drama from Netflix, features two New York Film Academy (NYFA) Filmmaking workshop alumni in its cast—Anouar Hadj Smaine and Hana Chamoun.
Smaine graduated from the 8-week Filmmaking workshop at NYFA's Burbank-based campus in early 2010. The Algerian-born actor, director, and playwright has numerous credits across several different disciplines, including as an actor in The Looming Tower, Westworld, Call of Duty: Black Ops 4, and the upcoming season of Veronica Mars. He also wrote, directed, and starred in the award-winning film Battle Fields. 
Chamoun was born in Lebanon and attended the 4-week Filmmaking workshop at NYFA's New York City campus in July 2013, before starting her career as an actress. Since then, Chamoun has appeared in 3000 Nights; Medinah; Salam; and Same, Old. 
Both Smaine and Chamoun appear in Jinn, which premiered on June 13. The supernatural coming-of-age drama is the first Arabic-language Original from Netflix, and was written and executive produced by Elan and Rajeev Dassani (Scandal) and Christian, Lucien, and Mir-Jean Bou Chaaya, and directed by Mir-Jean Bou Chaaya.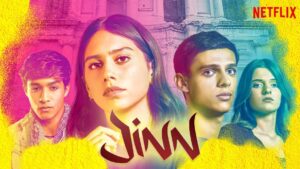 The story revolves around a group of teens who come across a malicious spirit while visiting Petra, Jordan and bring it back with them to their high school. Another spirit is brought along as well, turning their mundane teen lives into an epic battle of good versus evil. Smaine plays the principal of the school while Chamoun plays Ms. Ola.
New York Film Academy congratulates Filmmaking Workshop alumni Anouar Hadj Smaine and Hana Chamoun on their appearances in Netflix's exciting new Original series.
by nyfa