"All the barriers that have stopped people before… and you went through them like they didn't exist," said Selena's father Abraham in the film Selena. Abraham, played by Edward James Olmos, went on to conclude, "Maybe for you, they don't exist."
Selena, one of the most popular and influential films that positively depicted Latinx heritage, is the beloved story of pop superstar Selena Quintanilla-Pérez. The singer played a pivotal role in breaking down barriers for Latin artists in the United States, successfully crossing over into the mainstream American music market while singing both in Spanish and English. Her album "Dreaming of You" was a significant milestone in this regard. A rising Tejano music star, Selena tragically passed away in 1995.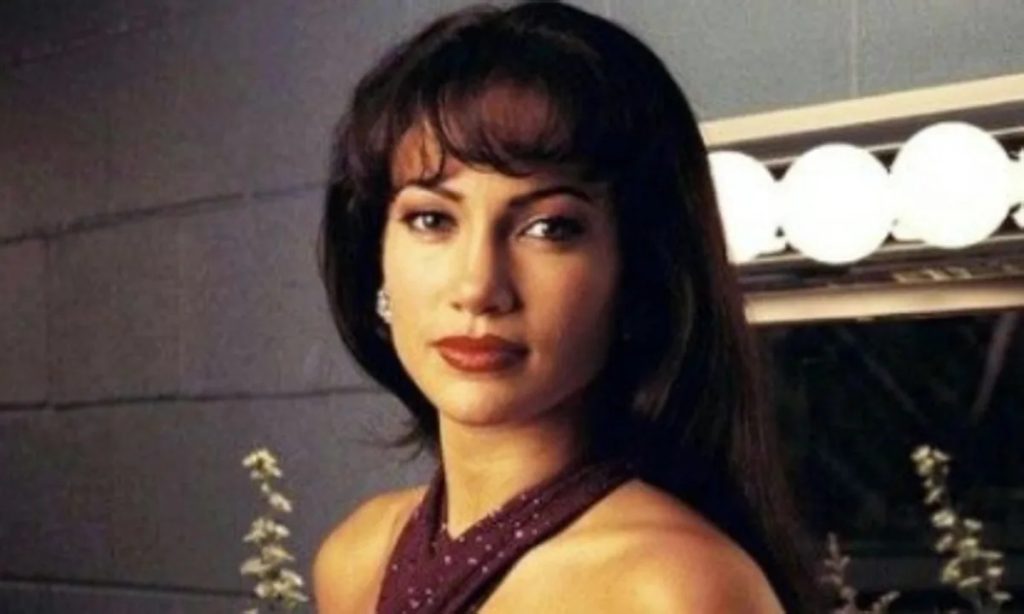 The film portrays Selena's life and her rise to fame. It was released in 1997 and starred Jennifer Lopez in the title role, pictured above. Lopez's performance as Selena earned her widespread recognition, and the film received critical acclaim. Resonating with audiences across cultural backgrounds, the film was a landmark in Latinx cinema. It not only paid homage to Selena's legacy but also contributed to increased visibility and positive representation of Latinx culture in mainstream entertainment. It remains a beloved film in the Latinx community and beyond, showcasing the power of storytelling to bridge cultural gaps and inspire audiences worldwide. Image via Hola!.
Latinx Films and Television Shows: Examples of Great Representation
Films and television shows like Selena continue to break down barriers and shatter stereotypes in Hollywood. As Latinx representation in films and television continues to showcase the diversity and rich cultural heritage of the Latinx community, here are some of our favorite films and television shows with notable representation.
Films
Flamin' Hot (2023) – Depicting the invention of Flamin' Hot Cheetos, Flamin' Hot follows the real-life story of former Frito Lay janitor Richard Montañez. Montañez came up with the idea for the spicy snack and pitched it to the company in the early 1990s. Frito-Lay, impressed by his concept, turned it into a successful product.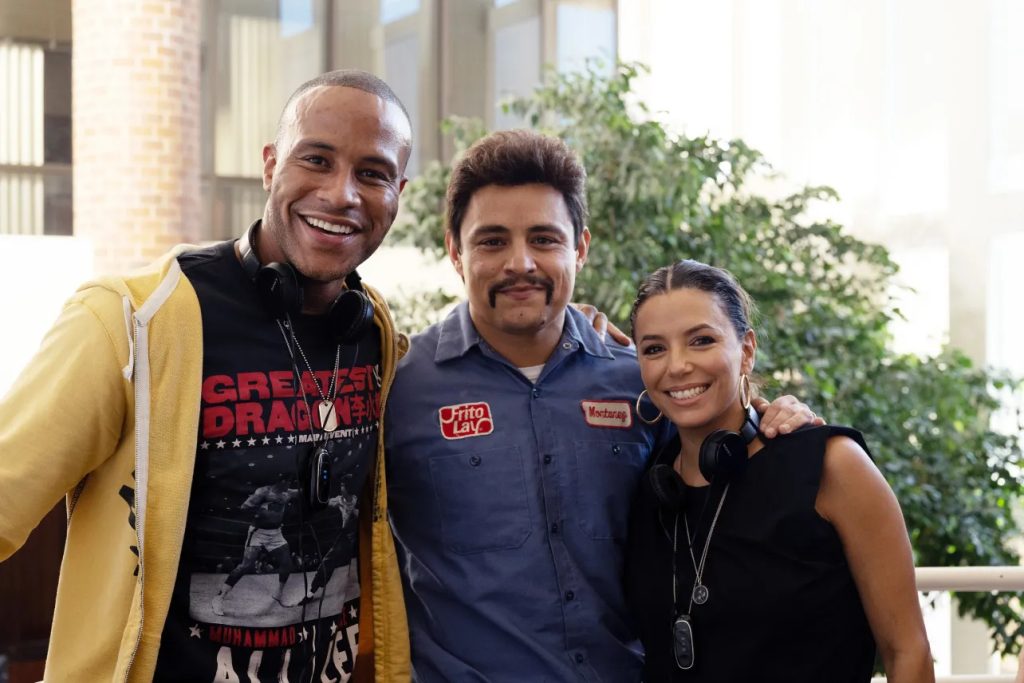 Montañez's story has been widely celebrated as an example of innovation and entrepreneurship. The film marks the directorial debut of actress Eva Longoria, pictured above. Image via Decider.com.
Roma (2018) – Directed by Alfonso Cuarón, this critically acclaimed film follows the life of a domestic worker in Mexico City named Cleo. Roma beautifully portrays the life of Cleo and the family she works for, offering a poignant and visually stunning glimpse into their daily struggles and personal dramas against the backdrop of a changing society.
Y Tu Mamá También (2001) – Directed by Alfonso Cuarón, Y Tu Mamá También explores the journey of two friends and an older woman on a road trip through rural Mexico. As they journey through the Mexican countryside, the film explores themes of friendship, sexuality, and the complexities of human relationships, offering a poignant and intimate portrayal of the characters' personal growth and the shifting dynamics among them. This film is also available in NYFA's streaming library, accessible by current students.
Coco (2017) – Coco is a heartwarming animated film from Pixar that tells the story of Miguel, a young Mexican boy who embarks on a journey to the Land of the Dead to discover his family's musical heritage. The film beautifully celebrates Mexican culture and traditions, particularly the Day of the Dead, while exploring themes of family, identity, and pursuing one's passion.
Real Women Have Curves (2002) – Real Women Have Curves is a 2002 American film directed by Patricia Cardoso. The story revolves around Ana, played by Barbie actress America Ferrera (pictured below), a young Mexican-American woman coming of age in Los Angeles. Image via Oscars.org.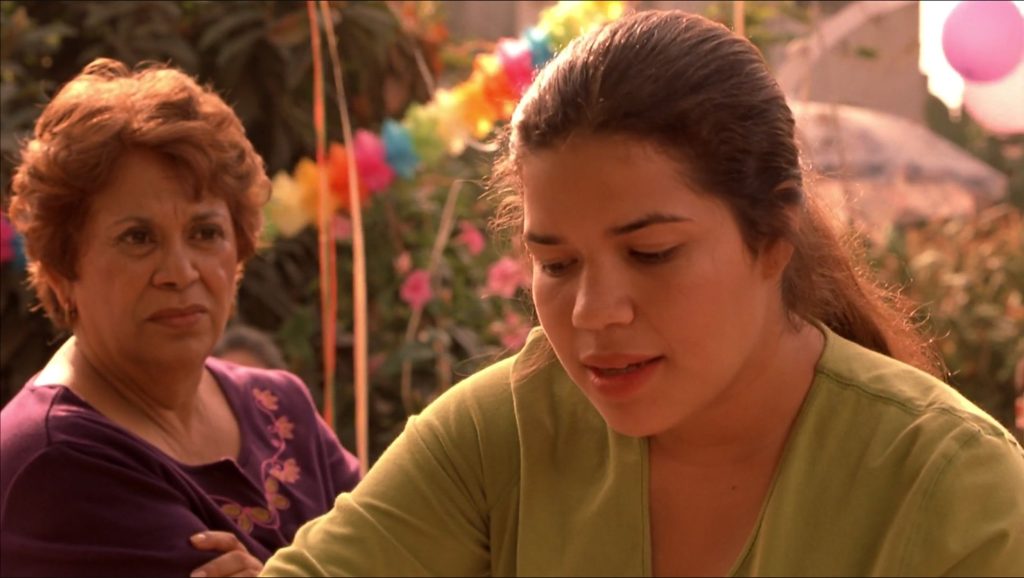 The film addresses issues of body image, cultural identity, the complicated relationship between mother and daughter, and the pursuit of personal dreams. Ana navigates the expectations of her traditional family while striving to achieve her own goals, making it a heartfelt and empowering portrayal of the Latinx experience.
In the Heights (2021) – Based on a musical of the same name created by Lin-Manuel Miranda and Quiara Alegría Hudes, In the Heights premiered on Broadway in 2008 and went on to win multiple Tony Awards, including Best Musical. Directed by Jon M. Chu, In the Heights is a vibrant and heartwarming musical film set in the tight-knit neighborhood of Washington Heights in New York City. Through lively music, dance, and storytelling, the film celebrates the cultural richness and aspirations of the Latinx community while exploring themes of love, identity, and home.
West Side Story (1961) and the remake West Side Story (2021) – West Side Story is a classic story of love and rivalry. The film is a classic musical and film adaptation that reimagines William Shakespeare's "Romeo and Juliet," and tells the tragic love story between Tony and Maria, members of rival gangs, the Jets and the Sharks. Featuring Puerto Rican characters and culture in the midst of New York City, the films are set against a backdrop of cultural tension and social issues. The 2021 version brought in important updates, such as more representative casting. The 1961 version is known for its use of brownface. The 2021 remake also features NYFA Musical Theatre alum, actress, singer, and dancer Ilda Mason.
Television Shows
One Day at a Time (2017-2020) – One Day at a Time is a beloved television series that reimagines the classic 1970s sitcom with a modern and diverse twist. The show follows the daily lives and struggles of the Alvarez family, a Cuban-American household, as they tackle contemporary issues like mental health, LGBTQ+ representation, and immigration while infusing humor and heartwarming moments into their storylines.
Vida (2018-2020) – Vida is a critically acclaimed television series that explores the complex lives of two Mexican-American sisters, Emma and Lyn, as they return to their childhood neighborhood in East Los Angeles following the death of their mother. The show delves into themes of identity, sexuality, gentrification, and family bonds, offering an authentic and raw portrayal of Latinx experiences and the challenges of reconciling one's heritage with personal aspirations.
Ugly Betty (2006-2010) – Ugly Betty is a popular TV show that follows the life of Betty Suarez, a smart and kind-hearted young woman who lands a job at a prestigious fashion magazine, Mode, despite not fitting the typical glamorous image of the industry. The show featured a predominantly Latinx ensemble cast, with America Ferrera playing the titular character, Betty Suarez, and several other Latinx actors in key roles. 
The series also incorporated elements of Latinx culture, family dynamics, and the immigrant experience, portraying the Suarez family's close-knit relationships and their proud Mexican heritage. Actress Salma Hayek, an executive producer of the show, also played a brief role in the series.
Jane the Virgin (2014-2019) – Jane the Virgin centers around the premise of Jane Villanueva, a young Latina woman who is accidentally artificially inseminated during a routine medical checkup. The show is noteworthy for its Latinx representation as it not only features a Latinx lead character in Jane but also incorporates Latinx culture and family dynamics into its storytelling.
The show explores issues such as intergenerational connections, immigration, and the importance of family in the Latinx community, providing a multifaceted and authentic representation of the Latinx experience in the United States. Additionally, the show's bilingual dialogue and incorporation of Spanish-language elements reflect the linguistic diversity of many Latinx households.
On My Block (2018-2021) – On My Block follows a group of friends navigating the challenges of adolescence in a predominantly Latinx and African-American neighborhood. The coming-of-age comedy-drama series revolves around the lives of four friends navigating the challenges of growing up in a predominantly Hispanic and African-American neighborhood in Los Angeles.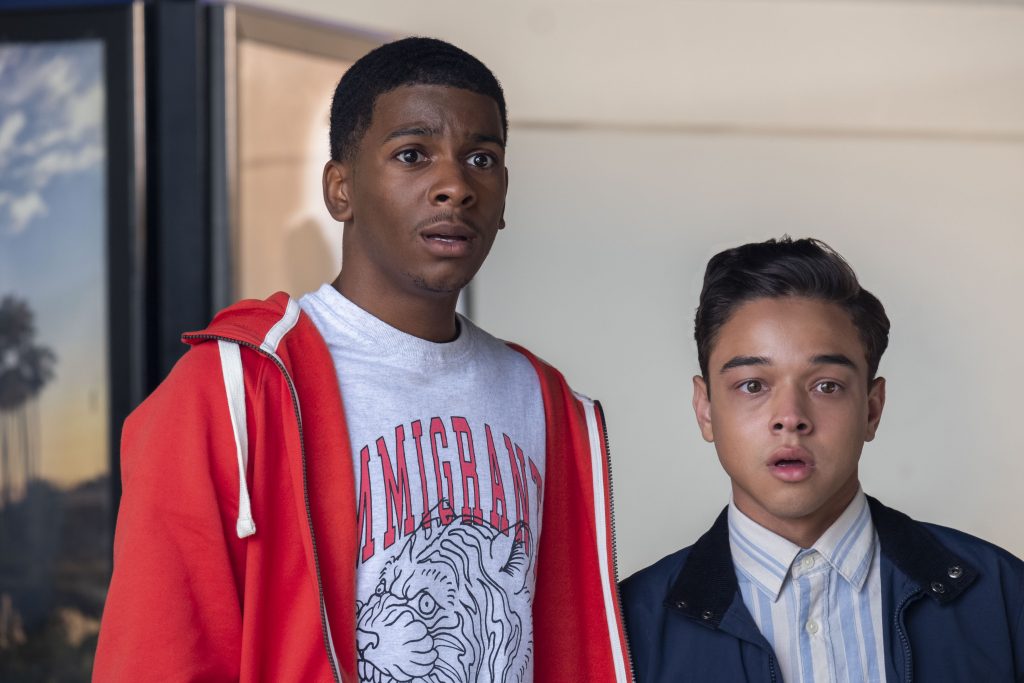 With its diverse cast, including Brett Gray and Jason Genao, pictured above, On My Block garnered praise for its representation and relatability, making it a popular and impactful series. Image via IMDB.
Telenovela (2015-2016) – Telenovela, which aired from 2015 to 2016, is a comedy series that parodies the world of Spanish-language soap operas, known as telenovelas. The show stars Eva Longoria as Ana Sofia Calderon, a famous telenovela actress who doesn't speak Spanish fluently, leading to comical misunderstandings and mishaps on set. With its humorous take on the melodramatic and over-the-top nature of telenovelas, Telenovela provides a lighthearted and entertaining look behind the scenes of these beloved TV dramas, offering a unique perspective on the genre.
Party of Five (2020) – Party of Five (2020) is a contemporary reimagining of the 1990s series of the same name. It follows the Acosta siblings, who must navigate life on their own after their parents are deported to Mexico. The show is notable for its Latinx representation as it addresses the real-world issue of immigration and the challenges faced by young Latinx individuals and families in the United States. It explores the complexities of identity, cultural heritage, and the pursuit of the American Dream, offering a poignant and timely portrayal of Latinx experiences.
Tell Your Story at NYFA
NYFA has a vibrant student and faculty community of filmmakers, directors, cinematographers, actors, and screenwriters from all over the world. Ready to learn how to tell your own unique, one-of-a-kind story? Explore our programs or request more information from admissions today!
by nyfa