LIZ HINLEIN INTERVIEWS ACTOR AND COMEDIAN JOE PISCOPO FOR 'THE 20/20 SERIES'
July 17, 2020
On Wednesday, July 15, New York Film Academy (NYFA) had the honor of hosting
Saturday Night Live
legend, comedian, and actor,
JOE PISCOPO
, as part of The 20/20 Series, created by NYFA's Creative Director of Filmmaking and
Cinematography
, Liz Hinlein. The conversation was moderated by Hinlein and was held virtually, allowing individuals to join NYFA and the special guests from all over the world.
The 20/20 Series, created by Hinlein, is a virtual pop-up event that takes us into the homes, hubs, and workspaces of an array of dynamic creative visionaries to allow for relaxed, engaging conversations on craft, creation and artistic vision.

Liz Hinlein (Left) talks to Joe Piscopo (Right) on Piscopo's career in comedy and performing
Joe Piscopo is a well known actor, comedian, and TV/radio personality with a career spanning the past four decades. In 1980, Piscopo was chosen to join a newly formed ensemble, which included his friend Eddie Murphy, that took on one of the most difficult tasks in TV history—replacing the original cast of
Saturday Night Live.
By the time Piscopo left the show in 1985, he had left his mark on the program, and the nation, thanks to his wide range of hilarious original characters and celebrity impersonations, from "The Sports Guy" and Doug Whiner to David Letterman and, of course, Frank Sinatra, who repeatedly endorsed Joe's portrayal of him, referring to Joe as "The Vice-Chairman of the Board."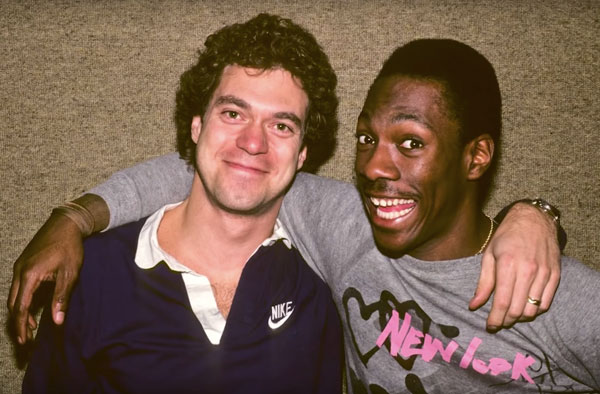 Joe Piscopo (Left) with 'SNL' castmate and frequent scene partner Eddie Murphy (Right)
His work on
SNL
naturally led to a career in Hollywood with starring roles in smash hits like
Wise Guys
(with Danny DeVito) and
Johnny Dangerously
(with Michael Keaton). Other film credits include
Dead Heat, Sidekicks
(with Chuck Norris) and a dramatic, critically acclaimed performance in Jonathan Parker's
Bartleby.
Piscopo now serves as a regular guest on The FOX News Channel and hosts his own talk show,
Piscopo in the Morning
, on AM 970 The Answer (WNYM) in New York City.
Hinlein began the discussion by asking Piscopo how he found his love of performing. Piscopo reminisced of his days in high school and how he never felt like an academic, but felt comfortable on the stage. "Drama really saved me and I found myself, and then I was very fortunate to receive the Lincoln Center Student Arts Award," he recalls. Piscopo eventually found himself at improv comedy clubs in Hell's Kitchen in 1970's New York and recalls eventually becoming a regular in some of the clubs before being scouted by an agent for
SNL
.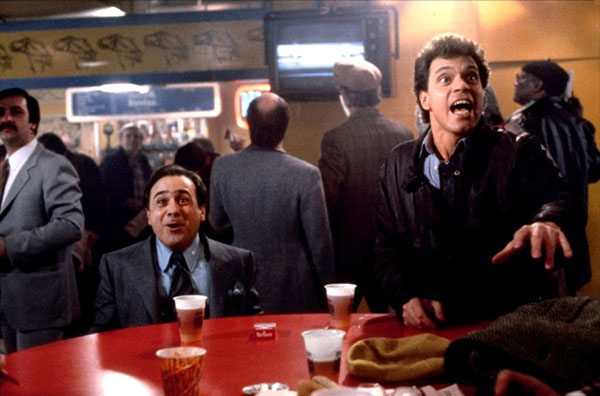 Joe Piscopo (Right) with Danny DeVito (Left) in 'Wise Guys'
Hinlein then asked Piscopo what it was like to work with a performance ensemble, hinting at potential issues caused by competition among cast members or differing political views. "I am a working entertainer and I am confident I can hold my own, but others, who I had the privilege of working with like the great Eddie Murphy, were comedic geniuses." He goes on to say that "you are a team member," the gig is about respect and rhythm.
One audience member asked Piscopo about how he comes up with his characters, jokes and performance style, to which Piscopo immediately responded that jokes are really the best if they are timely. "I always like to do satires of something, where I can add some experience to a scenario through my observation and use it as material."
Piscopo notes that it isn't just about making people laugh all the time. "All comedians are great actors," he points out. "Being funny means masking the pain within yourself, and it is great therapy. When I did drama scenes for
Wise Guys
, I felt very comfortable doing those." Piscopo encourages those to see comics as more than the "funny guy" but someone who can really perform in any role, mentioning comics who have comic backgrounds like Jim Carrey, Will Smith, Eddie Murphy, Robin Williams and others, who have truly wowed audiences with their dramatic performances.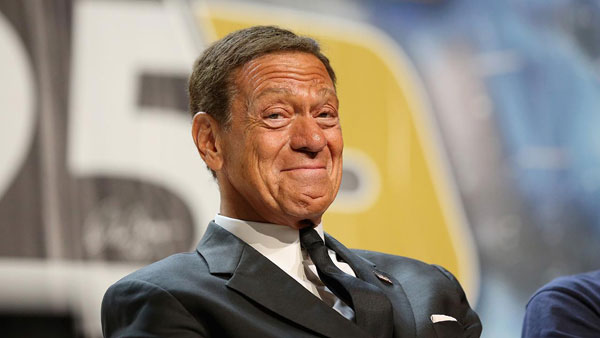 Joe Piscopo (Photo Courtesy of FOX)
"If you put everything else aside, all the anxiety, and all the noise, you can capture the moment [of your performance] for yourself. As actors and entertainers, the stage or being in front of the camera is like therapy."
New York Film Academy would like to thank actor and SNL legend Joe Piscopo for taking the time to speak with the NYFA global community on his career in comedy and performing, his influences, and the escapism of performing for The 20/20 Series, created by and moderated by Liz Hinlein.
To watch the full conversation, view the video below or watch on our
Youtube channel
.