New York Film Academy Australia Filmmaking Alum Josh Hale Shoots Second Feature on Gold Coast
September 9, 2019 Australia's Gold Coast is known for its beautiful natural scenery, so it might not be the first place you'd think of when choosing a location for a creepy horror film, but that outside-the-box thinking is part of what makes New York Film Academy (NYFA) Australia alum Josh Hale such a talented filmmaker.

Hale is directing his second feature film, House of Inequity, in two distinct locations on the Gold Coast—Jacobs Well and Helensvale. The independent film is being financed by an American investor; Hale also received a film grant from the Australian Government. The US-Gold Coast film is being produced by Hale's company, Halestorm Productions.

Hale attended New York Film Academy Australia in 2014, taking the Advanced Diploma of Screen and Media in Filmmaking program at the Gold Coast campus. Before then, he was shooting skateboard videos, but felt inspired to do more with the medium.

"I tried to make my own film in 2009 and failed miserably," Hale tells the Gold Coast Bulletin. "I was overly ambitious. I didn't know anything except I wanted to make a film. I always loved writing so it was a natural progression."

After graduating, Hale wrote and directed his first feature, a comedy entitled Digital Athletes: The Road to Seat League, which won several awards at multiple festivals, including the NYC Indie Film Awards, Festigious International Film Festival, IndieFEST Film Awards, and Los Angeles Film Awards.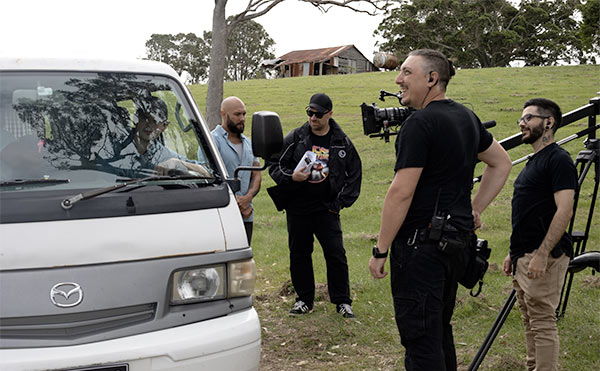 (from L to R) Josh Hale, David Cook, Brittany Bell, Todd Leigh; Photo credit: Glenn Hampson
"Josh utilized his hands-on training with NYFA Gold Coast to go make a feature film right out of college," declared NYFA Gold Coast Director Tasha Cooper after the
North American premiere
of
Digital Athletes
. "He's one of our success stories and we're very proud of his recent achievements."
His sophomore effort,
House of Inequity
, was written in 16 days, and shot over several months across both Gold Coast locations. Filming recently wrapped on the US-Gold Coast co-production, and
House of Inequity
is expected to premiere later this year. And Hale isn't slowing down—he is currently producing two other films, including a documentary.
New York Film Academy congratulates
NYFA Australia
Filmmaking alum Josh Hale on his latest work,
House of Inequity
, and looks forward to seeing the completed version later this year!
Please note: NYFA does not represent that these are typical or guaranteed career outcomes. The success of our graduates in any chosen professional pathway depends on multiple factors, and the achievements of NYFA alumni are the result of their hard work, perseverance, talent and circumstances.