Shooting For Space: New York Film Academy's STEAM Initiative Highlighted in Popular Astronomy
November 20, 2014
NYFA continues to aim for the stars as the Academy is featured in the
November-December issue of Popular Astronomy
. While astrophysics and acting are not generally related in most peoples' minds, the magazine highlighted NYFA's STEAM (Science Technology Engineering Arts Mathematics) Education Initiatives, which emphasize students practicing science rather than just simply learning it. As a result, students at the Academy's Los Angeles campus got a unique look into space that few other actors and filmmakers ever get to experience.
While our
BFA acting
and
BFA filmmaking
students are used to the Academy's commitment to learning by doing, they were understandably confused as to how the sciences relate to their arts education. New York Film Academy's Director of STEAM Education Initiatives Rajiv Uttamchandani has taken the role of engaging acting and film students in the sciences through incorporating the arts as an active component in the students' education.
This fusion of arts and science was realized through a STEAM astronomy class project, led by Professor Uttamchandani, in which students
launched high altitude weather balloons
into near-space that were armed with ultra-high resolution cameras, instruments to gauge temperature, pressure, and humidity, and tracking devices. The purpose of this singular experiment was to record the natural vegetation of Southern California's central-desert regions that lie in the Tehachapi mountain range.
"It is thrilling to see our faculty and students explore this intersection of art and science. Rajiv Uttamchandani is leading NYFA's effort to team filmmakers up with scientists to explore our physical and natural world and tell the stories that illuminate it," says NYFA Provost Michael J. Young.
The connection to the
visual arts
did not just end there. Throughout the course of the experiment—from preparation to launch to analysis—students were recording the action as students tracked the equipment 30 kilometers into near-space and over dozen of kilometers of southern California desert, finally retrieving the balloons and their footage. The experiment resulted in an emotionally charged short documentary that captured the students' exposure to the practical realities of scientific study and the very real human reactions to capturing a glimpse into territory these students never dreamed of exploring.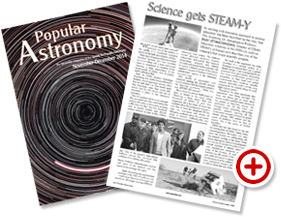 The ingenuity and inter-disciplinary focus of STEAM has now landed the initiative into the heart of NASA. Actors, filmmakers, and other visual arts students are currently working with leading scientists on the development of the James Webb Space Telescope to create visual materials that will raise public excitement and awareness about the project. The NYFA community and general public are eagerly anticipating the first products of this collaboration, along with other STEAM initiatives, to debut at the end of this year. You can learn more about the STEAM Education Initiatives in the November-December issue of Popular Astronomy, which is currently available.