NEW YORK FILM ACADEMY (NYFA) HOSTS CONVERSATION WITH DIRECTOR PAUL WARNER AND ACTORS THEMO MELIKIDZE & ANDREW BURDETTE FOR 'THE 20/20 SERIES'
August 12, 2020
On Wednesday, July 29, New York Film Academy (NYFA) had the honor of hosting three members of the NYFA community: Director and NYFA Instructor,
PAUL WARNER
, and NYFA Acting for Film alumni
THEMO MELIKIDZE & ANDREW BURDETTE
for The 20/20 Series, created by NYFA's Creative Director of Filmmaking and
Cinematography
, Liz Hinlein. The conversation was moderated by Hinlein and was held virtually, allowing individuals to join NYFA and the special guests from all over the world.
The 20/20 Series, created by Hinlein, is a virtual pop-up event that takes us into the homes, hubs, and workspaces of an array of dynamic creative visionaries to allow for relaxed, engaging conversations on craft, creation and artistic vision.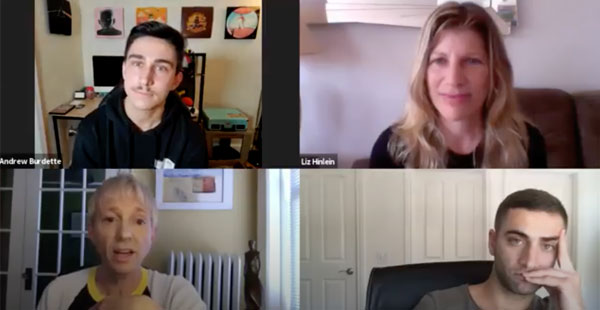 (Clockwise from top left) Andrew Burdette, Liz Hinlein, Themo Melikidze, and Paul Warner
Paul Warner
is an award-winning director and educator, whose more than 50 productions span film, theater, and opera. Warner directed a new musical,
River of Stone
by Drama Desk nominee Peter Melnick (grandson of Richard Rodgers) and his past credits include the feature film
Fall Time
starring Mickey Rourke, the short
In The Name of The Father
, the disco movie musical,
Kaya: Taste of Paradise
, and David Michalek's
Portraits in Dramatic Time
, with Alan Rickman, William H. Macy, and Holly Hunter, which premiered in the Lincoln Center Festival, for which he directed the actors and served as Executive Creative Consultant.
Warner was also joined by
actor
and NYFA alum
Themo Melikidze
, who portrayed the main antagonist, Tamerlan Tsarnaev, in Mark Wahlberg's film
Patriots Day
. Melikidze also appears as a recurring guest star on FOX's 24:
Legacy
, and most recently on ABC's
The Rookie
. Themo has done voice work for countless Triple A video games such as
Metro: Exodus, Call of Duty: Modern Warfare
and the new upcoming project
Marvel:The Avengers
.
Andrew Burdette
also joined Warner and Melikidze to discuss the collaborative process of actors and directors. Burdette, along with Melikidze, will appear in the 2020 Paul Warner film
Hamlet/Horatio
, Burdette has also been receiving critical praise for his feature film directorial debut
Bruh.MP4
.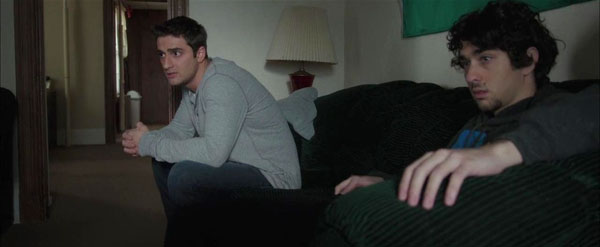 NYFA alum Themo Melikidze (Left) and Alex Wolff (Right) in 'Patriot's Day'
Hinlein began the conversation by discussing the importance of training for actors in respect to honing their craft. Warner responded: "It's important to have longevity. The training is the foundation of the house." Burdette, also a NYFA alum, commented that training is "being able to take what you're good at and being able to focus on specific areas and explore that." Melikidze echoed Warner and Burdette's sentiments by driving home how helpful training is for actors and directors alike.
"It prepares you for the unexpected. What you do in class, anything goes, and that's where you learn. So those mistakes prepare you for that not to happen [an error or misstep] when it really counts [in front of a casting director or producer]. It also makes you confident in the techniques you are learning, while keeping you connected with the creative process of collaboration."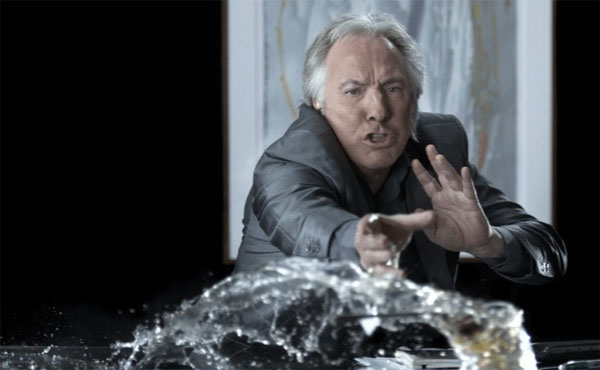 Alan Rickman in 'Portraits in Dramatic Time' (Dir. Paul Warner)
Hinlein then asked both actors (Burdette and Melikidze) whether they changed as actors through the process of education. "It's as simple as looking back at what I did when I first joined NYFA to what I have done now, it's been a 'night and day' transformation," explained Burdette. Melikidze agreed, and also offered the advice that "learning doesn't stop once you leave the classroom; you linger on things you discover in class and relate it to what you are currently preparing for [a new role or an audition]."
Warner chimed in that, as an educator and director, he is tasked with opening the minds of his students and actors who seek education for their craft by introducing new techniques, material, and breaking down walls so that everything feels truthful. "I can look out on day one and see who has walls," he shared. "I even remember Andy [Burdette] on day three in a casting session, who gave a crazy performance at 18, and I thought 'what an imagination'. So, it's about instilling a sense of openness and empowerment [for your actors as a director/teacher]."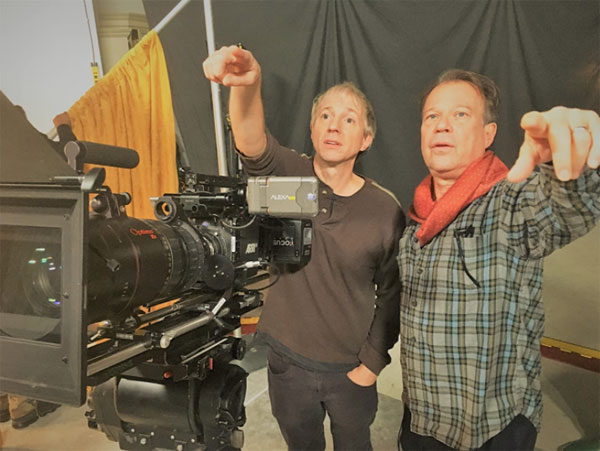 Paul Warner Directing 'Hamlet/Horatio' with Hernan Toro, Director of Photography
Melikidze remembers the breathing techniques that Warner would teach that really made him become a better performer. "The technique allowed me to become more present and that's one of the tools that is constantly with me. The moment you get in your head and start thinking about your lines, that's when you can lose everything. But if you relax your jaw and focus on your breath work and partner for the scene, you can become more present."
"Breath is emotion," Warner pointed out. "When you listen, breath is inhaled into the diaphragm and the actors need to listen not with their ears but with the body. Burdette - "Getting to work creatively with other people is really something to lean on. It's a night and day transformation.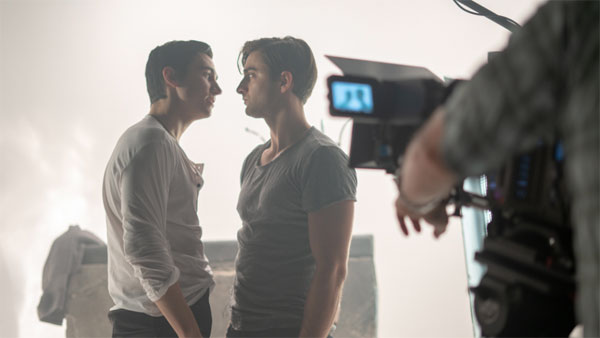 NYFA Alumni Andrew Burdette (Left) and Themo Melikidze (Right) shooting Paul Warner's 'Hamlet/Horatio'
The collaborators closed the conversation by highlighting some important advice for being in the film industry as a performer and a playmaker for each project.
Burdette:
"Remember that they [the casting director] saw something about you that they liked. Do you and make the adjustments when given that direction, but trust yourself. Make strong choices and always prepare."
Melikidze:
"It's very simple. Love your work. When you love what you're doing, that passion will speak for itself. When you try to force something, you're forgetting what you're saying; stop and listen as your character and as a human being, which can impact your performance."
Warner:
"As an actor, be confident, especially when talking with a director. Share ideas; whoever has the better idea, that's where the project is going to go. It's never about 'I'm holding on to my idea'."
New York Film Academy would like to thank Paul Warner, Themo Melikidze, and Andrew Burdette for taking the time to speak with the NYFA global community on directing actors and tips for how actors can also work with directors for The 20/20 Series, created by and moderated by Liz Hinlein.
To hear the full conversation, click the video below our watch on our YouTube channel
here
.