New York Film Academy (NYFA) Inaugurates New Florence Location
October 26, 2018 The Florence evening sky was lovely and the energy at New York Film Academy's (NYFA) new facilities on Via Torta, steps away from the historic Basilica di Santa Croce, was lively and celebratory.

Gathered to launch the new NYFA Florence location were more than 70 invited guests that included local Florentine partners, honored dignitaries from the Commune di Firenze, Directors of American university and college programs in Italy, filmmakers, actors, journalists, study abroad and academic associates, NYFA faculty and staff, and some of the school's illustrious alumni.

NYFA's President, Michael J. Young welcomed the cognoscenti of Florence to inaugurate New York Film Academy's new location and was joined by guest of honor Matthew Modine, star of film and television, and a member of the NYFA Board of Directors.


President Young presented the new facilities and stated, "Our Founder, Jerry Sherlock, first experienced Italy through its great Neorealism films, and this lovely new Florence location is the perfect fulfillment of his dream to create an international school where passionate aspiring filmmakers from all over the world could learn their craft."
Mr. Modine – who is currently in Italy shooting the television series Sanctuary – a psychological thriller – riveted the assembled guests with his description of the importance of film today, saying, "In these dark times, we need film to entertain us, to make us laugh, but also bring people together and help them understand each other."
He continued, "New York Film Academy Florence will teach a new generation of filmmakers to tell their stories and share them with the world."
New York Film Academy, now in its 26th year, has been operating in Florence for 15 years. Thousands of students, from more than 40 countries, have come to study at the NYFA Florence location, and have used this magnificent city, the surrounding Tuscan countryside and its' borghi, and the areas of Italy beyond, as film sets in their development as visual storytellers.
President Young concluded, "The city and the citizens of Florence have always made us feel welcome, and we are very grateful."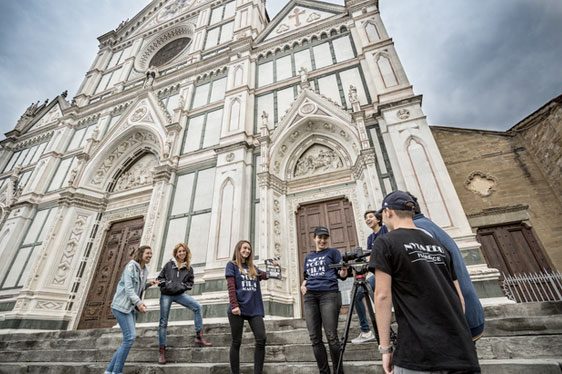 NYFA Florence is located in the neighborhood of Santa Croce, whose curved streets are the remnants of an amphitheater built 2,000 years ago. This iconic Florence location is just steps away from the Piazza Santa Croce, one of the city's most prominent squares and historical landmarks. The plaza is home to the Basilica of Santa Croce, which features sixteen beautifully decorated chapels, and tombs of many illustrious Italian figures, including Michelangelo, Machiavelli, Galileo, and Enrico Fermi.
New York Film Academy Florence offers short-term and semester-long programs in filmmaking and acting for film, as well as offering the opportunity for American students to have a unique study abroad experience.