NEW YORK FILM ACADEMY (NYFA) WELCOMES FILM & TV DIRECTOR & VFX SUPERVISOR MARCUS STOKES FOR THE 20/20 SERIES
April 22, 2021
New York Film Academy (NYFA) was excited to welcome film & TV director
MARCUS STOKES
as part of The 20/20 Series, created by NYFA's Creative Director of Filmmaking and
Cinematography
, Liz Hinlein. The conversation was moderated by Hinlein and was held virtually, allowing individuals to join NYFA and the special guests from all over the world.
The 20/20 Series, created by Hinlein, is a virtual pop-up event that takes us into the homes, hubs, and workspaces of an array of dynamic, creative visionaries to allow for relaxed, engaging conversations on craft, creation, and artistic vision.

Liz Hinlein (Left) and Marcus Stokes (Right)
Marcus Stokes worked as a computer graphics artist at George Lucas' Industrial Light and Magic (ILM). While at ILM, Stokes created groundbreaking visual effects for blockbuster films including
Star Wars Episode I, Minority Report,
and
The Mummy
. He then moved to Los Angeles and supervised visual effects for
The Matrix Reloaded, The Matrix: Revolutions, I Robot,
and
Serenity
.
Stokes officially began his directorial career when he joined the Director's Guild of America as a commercial director and created ads for clients including GMC, Nissan, and Walt Disney Pictures. Soon after, he realized his true passion for narrative filmmaking and began creating his own content. His very first film as writer/director,
The Catalyst
, was acquired by HBO and aired on their networks for two years. He has since gone on to direct shows including
Criminal Minds, 911, The Flash, Station 19,
and
The Astronauts
.
Stokes joined the conversation from Canada where he was currently preparing to shoot episodes for the upcoming season of The CW's popular series
The Flash
. Stokes spoke with Hinlein about how his VFX background at ILM exposed him to the filmmaking process and granted him facetime with some of the business's most talented directors. It was this exposure to the role that allowed Stokes to be confident to transfer his skills for VFX and filmmaking to pursue becoming a director himself, citing mentors F. Gary Gray (
Straight Outta Compton
) and Tim Story (
Fantastic Four
) as his mentors.
"One time, Tim [Story] taught me the importance of saying 'I don't know' on set. Sometimes you need to know the importance of saying it. He would also say 'I'm not ashamed to dance like a chicken if it will get my movie made,' so sometimes you have to take the ego out of it [directing]."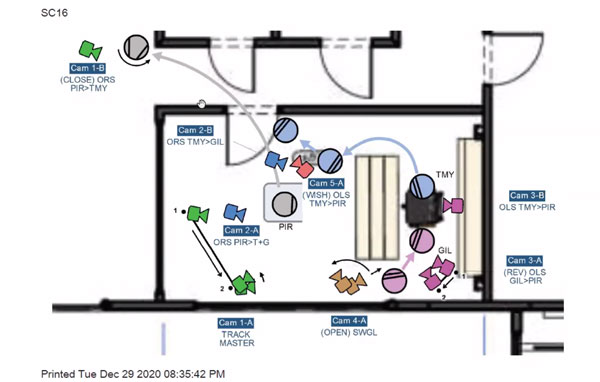 Blocking a scene (Photo courtesy of Marcus Stokes)
When it comes to prep, Stokes is as meticulous as they come. He shared his screen with the audience, showing what a typical blocking would look like ahead of shooting for a scene, noting the camera angles and potential movements that needed to be captured. "I block every scene I work on. I am a Black director and I feel like I have to be exceptional. It's also super important and you go on set prepared and see what happens. If it all falls apart, you at least have something to look at."
In addition to blocking, Stokes also stressed the importance for directors to understand their actors. "Actors are told when to show up, how to look, and how to deliver their lines. They're told everything, but the only thing they have control over is their attitude. So you give them control and when they say 'I don't want to stand here,' for example." It's about picking your battles, but more importantly understanding that your actors are going through a lot and as the director, you need to acknowledge that. " You got to know who you're up against.
New York Film Academy would like to thank Marcus Stokes for taking the time out of shooting
The Flash
to join the NYFA global community to discuss film directing for The 20/20 Series.