NEW YORK FILM ACADEMY (NYFA) WELCOMES AWARD-WINNING DIRECTORS NINA MENKES AND MARIA GIESE 'THE 20/20 SERIES'
September 25, 2020
On Wednesday, September 23, 2020, New York Film Academy (NYFA) had the pleasure of welcoming award-winning filmmakers
NINA MENKES
and
MARIA GIESE
as part of The 20/20 Series, created by NYFA's Creative Director of Filmmaking and
Cinematography
, Liz Hinlein. The conversation was moderated by Hinlein and was held virtually, allowing individuals to join NYFA and the special guests from all over the world.
The 20/20 Series, created by Hinlein, is a virtual pop-up event that takes us into the homes, hubs, and workspaces of an array of dynamic creative visionaries to allow for relaxed, engaging conversations on craft, creation, and artistic vision.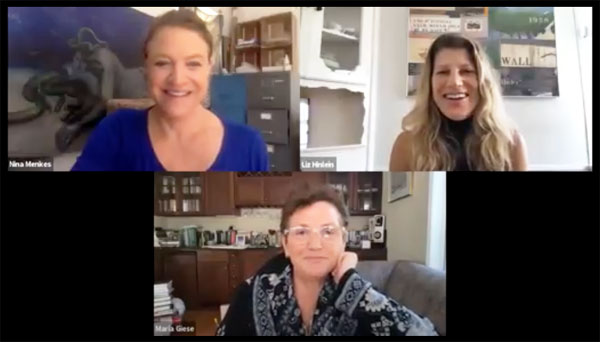 (Clockwise) Nina Menkes, Liz Hinlein, and Maria Giese for 'The 20/20 Series'
Nina Menkes
is considered a cinematic feminist pioneer and one of America's foremost independent filmmakers. Menkes's honors include a Los Angeles Film Critics Association Award, a Guggenheim Fellowship, two fellowships from the National Endowment for the Arts, an AFI Independent Filmmaker Award, a Creative Capital Award, and a Berlinale FIPRESCI Prize for the feature documentary
Massaker
. In 2011, her feature film
The Bloody Child
(1996) was named one of the most important films of the past 50 years by the Viennale International Film Festival, Austria.
After four years of activism in the Directors Guild of America,
Maria Giese
became the person who instigated the groundbreaking industry-wide Federal investigation for women directors in Hollywood. She is the subject of the award-winning feature documentary
This Changes Everything.
Her new TEDx talk,
The Battle For Female Voices in Entertainment Media
, and her upcoming book,
Troublemaker
, describe her work getting the ACLU and EEOC to investigate this issue— the ramifications of which are resonating globally.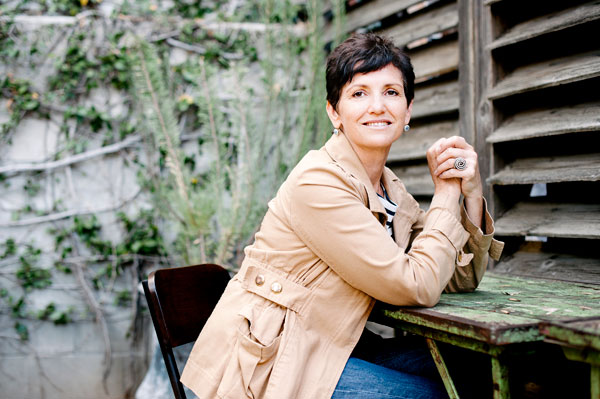 Maria Giese for 'Fortune' (Danny Liao, 2015)
Hinlein began the discussion by asking how both Giese and Menkes began rallying behind women in Hollywood and challenging the current landscape. "I come from a place where I was trying to get more women directors working," shared Giese. "When you consider that 80% of the media content comes from the United States and almost all of them are directed by white men, you begin to see a style or language or cinema that portrays women as 'less than' or with a bias."
Menkes agreed and elaborated that "over time [for shot design] most of the films we see (international, independent, Hollywood) have a very different way of shooting male actors and female actors. How can this not affect our own feelings about ourselves and how we look at other women?" Menkes, whose forthcoming film
Brainwashed
focuses on this topic, elaborated on how filmmakers employ framing, lighting, visual effects, and more to disempower women while appearing to glamorize them.
Hinlein, intrigued, asked both famed directors to share more on how they believe culture is impacted by cinema and certain portrayals of women. "Film has a huge impact on our behavior and intent," noted Menkes. "All women don't have to be powerful all the time and the stories do not always have to be uplifting, but the key factor is understanding the difference between a subject and an object." "Exactly," Giese agreed, "and if the cinematic languages continue to oversexualize women, it's obviously going to have a major impact on our cultural narrative and how we look at things."
Hinlein returned the conversation to discuss how both award-winning filmmakers came to make movies. Menkes replied that it was "a real inner calling" and Giese explained that watching movies was the closest you could come to dreaming in real life.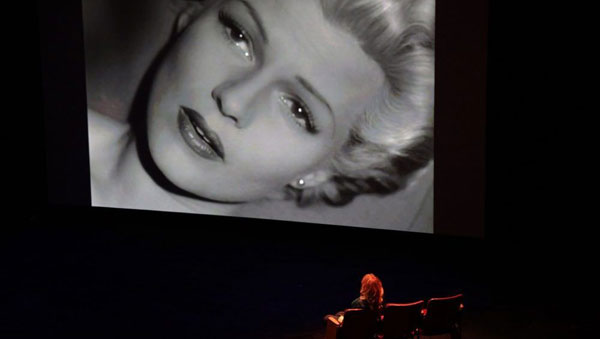 Still from Nina Menkes' 'Brainwashed'
When asked about writing women as main characters, one member of the global audience asked both filmmakers for advice on what aspects of filmmaking to keep in mind to empower the character on screen. "Think of your main character as the subject of your story and remember the difference between a subject and an object. It's about the experience, not what she looks like," replied Menkes.
Giese agreed, adding that "there are so many different places in the process of filmmaking (screenwriting, editing, music, etc), where you can empower or disempower your character. It's about being thoughtful about it."
Hinlein closed the conversation by mentioning that, ultimately, we (as filmmakers) need to know our history and think about that as filmmakers. "Yes, and it's not just women, it's all marginalized people that need to understand the dominance aspect of society calling the shots and the impact it has on us," added Giese.
New York Film Academy would like to thank Nina Menkes and Maria Giese for joining the NYFA global community to discuss women in film, thoughtful filmmaking, and more for The 20/20 Series, created by and moderated by Liz Hinlein.
These guests are not faculty and do not teach at NYFA, but they have appeared to share their stories and experience with our students. As guest speakers are scheduled based on their availability, NYFA cannot guarantee whether a guest speaker will visit during a student's attendance or who that guest speaker may be. This guest speaker forum is not part of any NYFA curriculum and attendance at guest speaker events is purely voluntary. Students should be aware that guest speaker events do not represent a job opportunity nor are they intended to provide industry connections.