NEW YORK FILM ACADEMY (NYFA) WELCOMES PRODUCERS CRISTEN CARR STRUBBE AND JEANETTE VOLTURNO FOR 'THE 20/20 SERIES'
October 17, 2020
On Wednesday, October 14, New York Film Academy (NYFA) was excited to welcome acclaimed producers
CRISTEN CARR STRUBBE
and
JEANETTE VOLTURNO
as part of The 20/20 Series, created by NYFA's Creative Director of Filmmaking and
Cinematography
, Liz Hinlein. The conversation was moderated by Hinlein and was held virtually, allowing individuals to join NYFA and the special guests from all over the world.
The 20/20 Series, created by Hinlein, is a virtual pop-up event that takes us into the homes, hubs, and workspaces of an array of dynamic creative visionaries to allow for relaxed, engaging conversations on craft, creation, and artistic vision.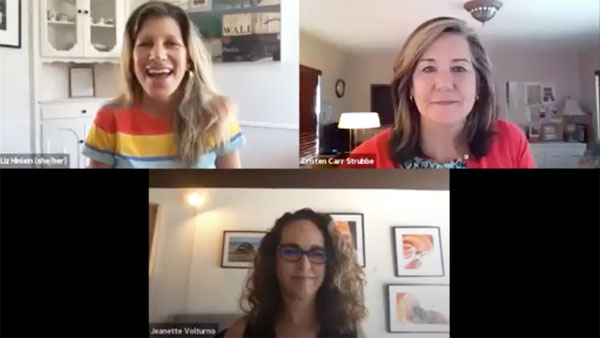 (L-R) Liz Hinlein, Cristen Carr Strubbe, and Jeanette Volturno
Jeanette Volturno
is the founder of CatchLight Studios. Prior to founding CatchLight, Volturno was the head of physical production for Blumhouse Productions and worked on over 60 feature films during her tenure at the company, including titles such as
The Invisible Man, Get Out, Halloween, BlacKkKlansman,
the company's successful
The Purge
franchise, and
Whiplash
.
Cristen Carr Strubbe
has been an indispensable part of some of the most notable productions of Directors Steven Spielberg, Mike Nichols, Ivan Reitman, Sam Mendes, Christopher Nolan, Michael Mann, and cult favorites John Landis, Wes Craven, and Sam Raimi. She has overseen projects like Jurassic World and more independently-produced projects like Get Out and Halloween for delivery to Universal Pictures. She has shepherded other projects including
Neighbors, Don't Breathe, The Night Before, American Beauty
(for which Strubbe shares a DGA Award for Outstanding Directorial Achievement),
Catch Me if You Can, The Prestige,
and
Ali
.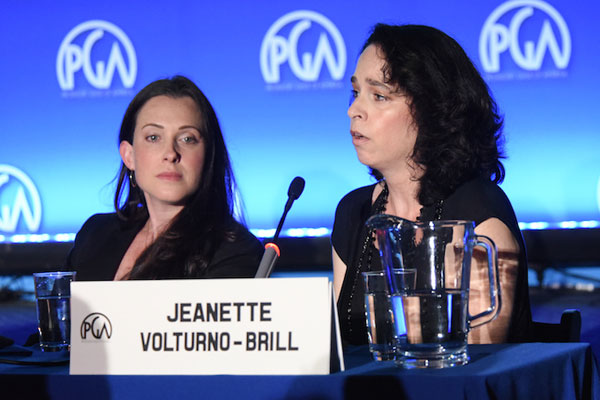 Jeanette Volturno at PGA panel (Photo Credit: Invision for PGA)
Hinlein began the conversation by asking both producers how they dealt with COVID-19 when the pandemic started and how they are combating it now. "There were a lot of 'what if' scenarios," said Strubbe. "Having done it now, you can assess what projects are easier to tackle in this environment and which ones need to be pushed back miles down the road," added Volturno. "The types of projects and getting into what is possible is getting clearer now."
Both seasoned producers, Strubbe and Volturno also nailed down their roles on set when it comes to being a certain type of producer, as it may vary from project-to-project. "I get the script and figure out where to shoot it and when to shoot it, then I ask myself 'who do I hire for this project?'," remarked Strubbe. "My job is to make sure everyone on my crew can do their job well. I've worked with many generous mentors who have taken the time to give me direction, course correct and I have time to do that as well."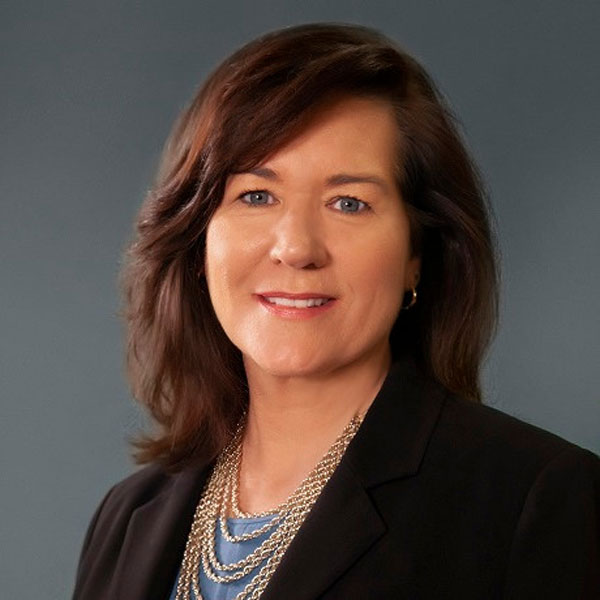 SVP Physical Production at Universal Pictures Cristen Carr Strubbe
Volturno agreed and added, "We help people get their projects up and off the ground and we all have our strengths handling multiple things at the same time." Both producers also stressed the importance of working with like-minded people who are collaborative in making the project move along seamlessly though "everyone gets themselves in a pickle in production at some point," joked Volturno.
One person from the audience asked how producers can work alongside directors who also serve as producers on a film, a subject that sometimes seems a bit uncharted for many on a microbudget film.
"The director is usually a producer or someone in the cast on a project I am working on," began Strubbe. "There is some distinction between what the physical producer is doing versus what some of the other producers may be doing. It's moving both the creative and physical producers together to work in tandem." Volturno also encouraged everyone to figure out your working styles before shooting during pre-production.
New York Film Academy would like to thank Cristen Carr Strubbe and Jeanette Volturno for joining the NYFA global community to discuss the different roles of a producer for The 20/20 Series, created by and moderated by Liz Hinlein.
To watch the full conversation, view the video below or watch on our
Youtube channel
.
These guests are not faculty and do not teach at NYFA, but they have appeared to share their stories and experience with our students. As guest speakers are scheduled based on their availability, NYFA cannot guarantee whether a guest speaker will visit during a student's attendance or who that guest speaker may be. This guest speaker forum is not part of any NYFA curriculum and attendance at guest speaker events is purely voluntary. Students should be aware that guest speaker events do not represent a job opportunity nor are they intended to provide industry connections.