NYFA WELCOMES PRODUCERS OF MILITARY DOCUSERIES "TEN WEEKS" TO NYFAS Q&A-LIST
February 1, 2021
On January 26, 2021, New York Film Academy (NYFA) had the honor of hosting a live video Q&A with the co-founder of
We Are the Mighty, David Gale;
Medal of Honor recipient & Chair of NYFA's Veteran Advancement Program
Col. Jack Jacobs,
and We Are The Mighty (WATM) Chief Content Officer and director
Chase Millsap. Tova Laiter,
Director of the NYFA Q&A-List Series, curated and moderated the event.
David Gale
is an executive and award-winning producer who is currently serving as the Exe.VP of Development and Production at
Gunpowder & Sky
. Before joining G&S, Gale co-founded and was CEO of
WATM
, a media brand focused on hiring and telling the stories of our military veterans. Gale oversaw the release of
28 films
when he was at
MTV Films
, including
Varsity Blues, Save The Last Dance, The Longest Yard, Election, Hustle and Flow,
and the cultural phenomenon
Napoleon Dynamite.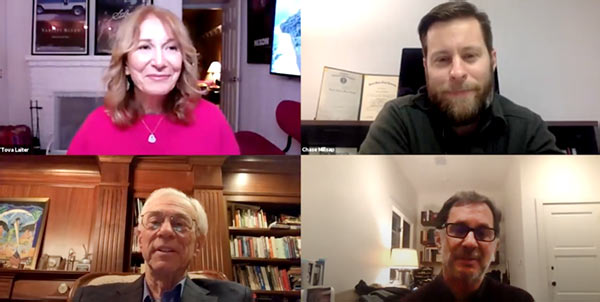 (Clockwise) Tova Laiter, Chase Millsap, David Gale, and Col. Jack Jacobs
Chase Millsap
produced the short film,
The Captain's Story
, in collaboration with National Geographic to highlight the struggles faced by America's wartime allies. His work has been featured in
National Geographic, The Huffington Post
and he has appeared on Buzzfeed and CNN International. Millsap is the Chief Content Officer at WATM and has helmed digital, social, film, and television projects for Warner Brothers Studios, CBS Studios, Netflix, and Blumhouse Productions.
Col. Jack Jacobs
served in Vietnam twice; both times as an advisor to Vietnamese infantry battalions, earning three Bronze Stars, two Silver Stars, and the Medal of Honor, the nation's highest combat decoration. After Jacobs' retirement, he was a Managing Director of Bankers Trust and now serves as the
Chair of the Veterans Advancement Program at the New York Film Academy
. Jacobs also serves as an
on-air analyst for NBC News
and he is also the co-author of the memoir,
If Not Now, When?
, which won the Colby Award.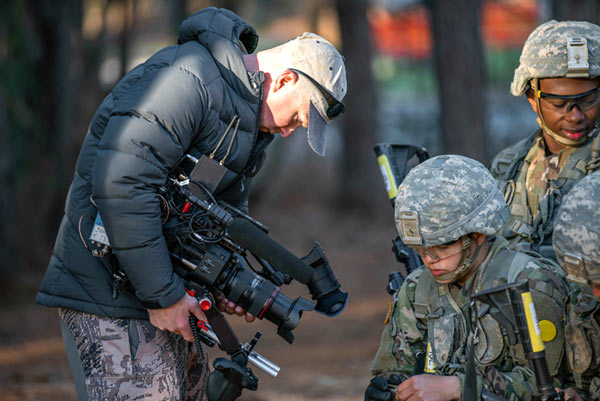 Rhett Cutrell filming Army trainee Stormy Gideons on the set of "Ten Weeks" (Photo courtesy of We are the Mighty / Quibi)
Millsap, Gale, and Col. Jacobs discussed the making of their series from
Blumhouse TV
/We Are The Mighty docuseries
Ten Weeks
. The series, inspired by Col. Jacobs' book
Basic: Surviving Boot Camp and Basic Training,
is a docuseries that follows a cohort of recruits in their journey from untested, young adults to soldiers during basic training at Fort Jackson, South Carolina. Though the docuseries
Ten Weeks
was originally supposed to be released on Quibi, the series will be available to stream on Roku devices in 2021.
Ten Weeks
(named for the length of basic training) would not have been possible without the support of the U.S. Army, which colonel Jack Jacobs brought in to collaborate throughout the process. Millsap explained that it was a documentary, but it had to have a plan in place: it meant knowing the limits of production each day while on set as it was an active training ground with real challenges, safety concerns, and a rigorous approval process for certain shots. But it was all worth it.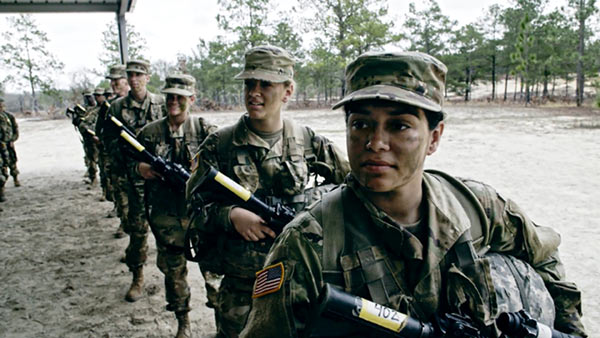 Army Trainees Trinity Carpenter and Stormy Gideons about to receive their banner during "The Anvil" (Photo courtesy of Blumhouse TV / Quibi)
"Going through boot camp is an experience most people don't experience or get to see," shared Jacobs. "It's the backstory of national defense." Gale agreed and added the project "is by veterans for veterans so you can't understate the importance of the series and also give credit to the Army for giving us the opportunity to use this space."
While Ten Weeks is by veterans like Millsap and Col. Jacobs, David Gale, who has been in the film business for many years co-founded WATM because he didn't see many veterans in higher positions throughout the filmmaking industry. "There is so much talent in the military community and when they leave there are few outlets for them to go into in entertainment," he shared. Col. Jacobs, who spearheads NYFA's Veterans Advancement Program, added that many across the industry don't realize how talented are those who serve and what they can accomplish. "[At NYFA], it's an opportunity to hone what they know and learned in uniform to the arts."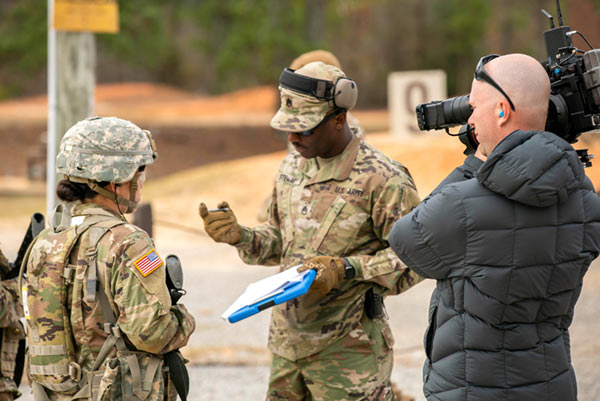 Army trainee Stormy Gideons and Drill Sergeant Stewart being filmed by Rhett Cutrell on set for "Ten Weeks" (Photo courtesy of We are the Mighty / Quibi)
Millsap, who is a 10-year veteran of the U.S. Marine Corps and U.S. Army Special Forces knows all too well the challenges that one can face when transitioning from the military to the film industry. "I spent over a decade in uniform and I didn't know what I wanted to do, so I leaned into what I was passionate about," shared Millsap. "In the military, it's very easy to see what someone's job is or what they do. As you think about your next step, your creative work is going to be your calling card. You've got to spend your time learning the skill set and reading and watching. Study what's on the screen to figure out how it was made." He himself made a short that brought him a lot of attention and he was on his way.
Millsap and Col. Jacobs, like so many veterans in the entertainment and film industry, are aiming to make military stories exude authenticity and provide more opportunities to veterans looking to break in. Col. Jacobs advised, "No matter what you're doing, you have to be prepared for some measure of rejection, but you have to keep working at it and it (the project) has to speak to you."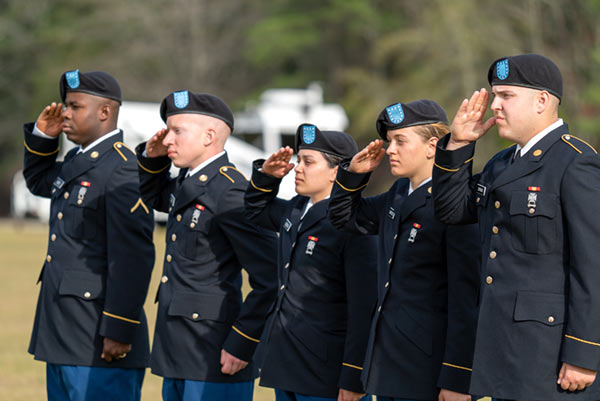 (L-R) Army trainee/soldiers Leo Eades, Joshua Oller, Stormy Gideons, Trinity Carpenter, and Riley Barnard on graduation day (Photo courtesy of We are the Mighty / Quibi)
Laiter thanked the distinguished producers for the series that will open up another world in an authentic and compelling way.
New York Film Academy would like to thank David Gale, Col. Jack Jacobs, and Chase Millsap for sharing their time and expertise with students and the NYFA community. For more information on veteran opportunities at New York Film Academy,
click here.
To hear the full conversation, click the video below our watch on our YouTube channel
here.
These guests are not faculty and do not teach at NYFA, but they have appeared to share their stories and experience with our students. As guest speakers are scheduled based on their availability, NYFA cannot guarantee whether a guest speaker will visit during a student's attendance or who that guest speaker may be. This guest speaker forum is not part of any NYFA curriculum and attendance at guest speaker events is purely voluntary. Students should be aware that guest speaker events do not represent a job opportunity nor are they intended to provide industry connections.