Remember back in the 1990s when Sarah Michelle Gellar, Ryan Phillipe, and Reese Witherspoon starred in an adaptation of Pierre Coderlos de Laclos' seminal French novel Les Liaisons dangereuses (Dangerous Liaisons)? No? Perhaps that's because it was called Cruel Intentions and took the original novel's targeted critique of the corrupt and immoral behavior of French elites in the 18th century and instead aimed it at rich and spoiled high school students in present-day New York. Cruel Intentions is a shining example of the way in which a well-known story can be reinvigorated by shifting settings and genres to help create something bold and different. It might be a story we've heard, but we've never heard it told quite this way, and in adapting, it can collect new levels of meaning and metaphor that fill it with new and exciting storytelling life.
Creating TV & Movie Adaptations as an Aspiring Filmmaker
There are basic things that fundamentally change when adapting a story from one genre to another; it's hard to fit internal monologues from novels into the visual world of feature films, for example. But beyond those basic necessities of television and movie adaptations, there lies the possibility to truly transform what a story can be while keeping the core that made it beloved in the first place intact. When thinking about how to adapt work to film, it's important to not simply focus on the logistics of telling the story in a visual format but also to think of how the story can be remade into a tale that even fans of the original telling can experience as something new.
Learning how to adapt a story is an important skill for every aspiring filmmaker, screenwriter, or producer to master. As such, several NYFA disciplines, including Screenwriting and Producing, teach students the fundamentals of adapting work for film, television, and new media. In Producer's Craft, for instance, students identify a piece of the underlying material, research its value, and create a proposal for an Option Purchase deal for that specific piece of the underlying material. That piece then serves as their "Producer's Craft Project" for the remainder of the course. For more information about courses and examples of projects, see our course catalogs or visit our Screenwriting Projects page and Producing Projects page.
What Stories Are Adaptable? Copyright Vs. Public Domain
If you're interested in adapting a story, one of the first, most important things you need to determine is if the story is under copyright or in the public domain. Copyright means that the original creator – or current rights holder – has the exclusive right to produce material based on that story. They can license those rights to interested creators, but depending on the original artist and story, those costs can be high. Rian Johnson licensed the rights to adapt his script for Brick to a small independent theater company for nothing; meanwhile, E.L. James sold the movie rights to her novel Fifty Shades of Grey for $5 million. As the rights holders are also still in a position to profit from their work, they would likely have conditions or rules in place as to how you can adapt it to maintain the integrity of what they've created. So it's vital to understand what sort of financial resources you'll have available to you before getting your heart set on a story. It's also a terrible idea to produce an adaptation without attempting to acquire the rights – not only could you lose your shirt in a lawsuit, but chances are your finished project will never see the light of day.
However, if you'd like to avoid the headache of negotiating licensing fees, you can search for something in the public domain. Public domain means the copyright on a given work has expired, allowing anyone and everyone to adapt it to their heart's content. In the United States, when it comes to literature, anything originally published before 1928 is in the public domain; this includes such legendary works as Frankenstein, The Great Gatsby, Alice's Adventures In Wonderland, and even John Carter of Mars. Likewise, many classical works, from The Epic of Gilgamesh to The Odyssey to the collected works of William Shakespeare, are free and clear to be developed for other mediums. Adapting a work in the public domain not only eliminates the cost associated with it, but also frees you to tell the story in whatever way you choose.
One final note on this topic – when a new work is created from something in the public domain, it has its own copyright and thus cannot be adapted again without the original creator's permission. For example, you could adapt Sir Arthur Conan Doyle's original The Hound of the Baskervilles novel, but not the "The Hounds of Baskerville" episode of BBC's Sherlock.
Let's take a look at some recent television and movie adaptations that have reimagined, reinvigorated, or, in one case, wholly twisted the story of the original into something thrillingly original.
The Archies (2023)
Zoya Akhtar's The Archies, coming out in November on Netflix, is an Indian Bollywood-style adaptation of the popular The Archies comic book (which was also the source material for the popular CW teen drama Riverdale).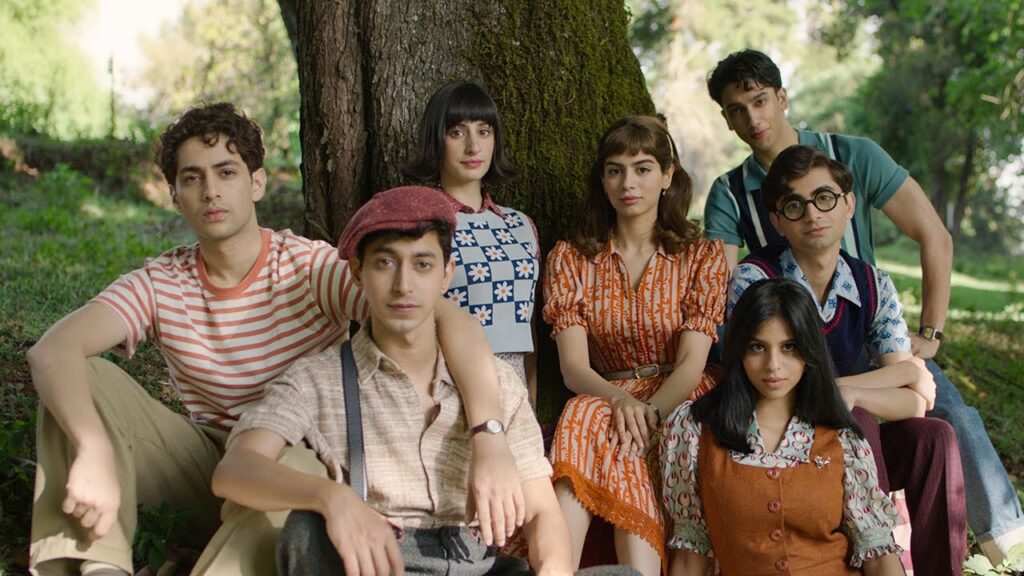 Focusing on their time as a band, The Archies will feature well-known characters like Archie Andrews, Jughead Jones, and – of course – Betty and Veronica, as played by NYFA alums Khushi Kapoor and Suhana Khan, respectively. Bringing The Archies to the music- and the dance-filled world of Bollywood is a natural fit, while the cultural shift will allow Akhtar the freedom to explore the characters in a bold new way.
Winnie the Pooh: Blood & Honey (2023)
You'd be forgiven if you're confused about how the phrases "Winnie the Pooh" and "Blood" wound up in the same horror movie title, but here we are. Rhys Frake-Waterfield's independent slasher film reimagines A.A. Milne's beloved characters – popularized by their many Disney movie adaptations – in a frightening new light. In this tale, Christopher Robin has gone off to college and is no longer around to feed Winnie and the other residents of the Hundred Acre Wood, so Winnie decides that to survive, he has to kill and eat Eeyore – an act which puts him in a primal, dangerous state. With Piglet as his accomplice, he sets out to terrorize Christopher when the now-adult returns to visit.
The Lizzie Bennet Diaries (2012-2013)
A modern-day take on Jane Austen's Pride & Prejudice, the web series The Lizzie Bennet Diaries not only updated the fame novel of manners but reconceived it as being told in vlog-style by lead character Lizzie Bennet. Going beyond acting as a series alone, the show included revealing aspects of the story through characters' various social media accounts and even included interactions with real fans. Perhaps its greatest accomplishment was becoming the first web series to win an Emmy for Outstanding Creative Achievement in Interactive Media – Original Interactive Program, an award shared by a casting director (and our own LA Chair of Producing) Jenni Powell.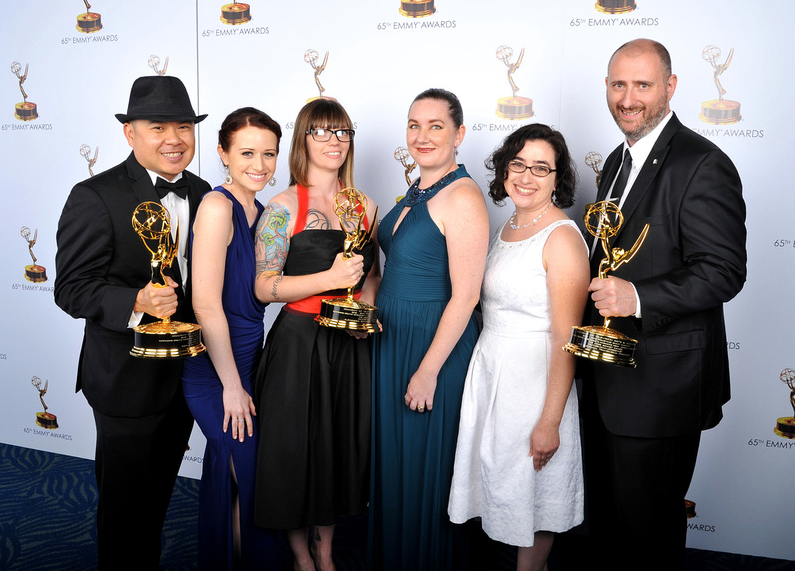 "For any Producer that might be interested in doing adaptation work, I'd say my biggest piece of advice would be to look for a unique angle to the material that hasn't been seen before and that you are passionate about sharing with the world," Jenni advises aspiring Producers.
"For "The Lizzie Bennet Diaries," the original pitch to me was, "Can we take a public domain novel and adapt it in the style of a YouTuber vlogging in their bedroom?". That pitch was so unique and so tailored to my interests but also seemed so obvious that I was worried someone had already done it! But I did research and discovered it hadn't been done, so the next step was, "what book?" It was the combination of the unique point of view and choosing a beloved novel that also happened to be in the public domain that was the recipe for success. And before we knew it, a new genre of entertainment had been created: the Literary Web Series. There are many opportunities for outcomes like this to occur with other projects if you can think of adaptation work not just creatively but entrepreneurially."
Guillermo del Toro's Pinocchio (2022)
We've covered del Toro's stunning stop-motion adaptation of Carlo Collodi's children's fantasy novel before, but it's worth mentioning again for it's bold decision to take the revered tale of a puppet that just wants to be a "real boy" and sets it in the midst the fascist uprising in Italy.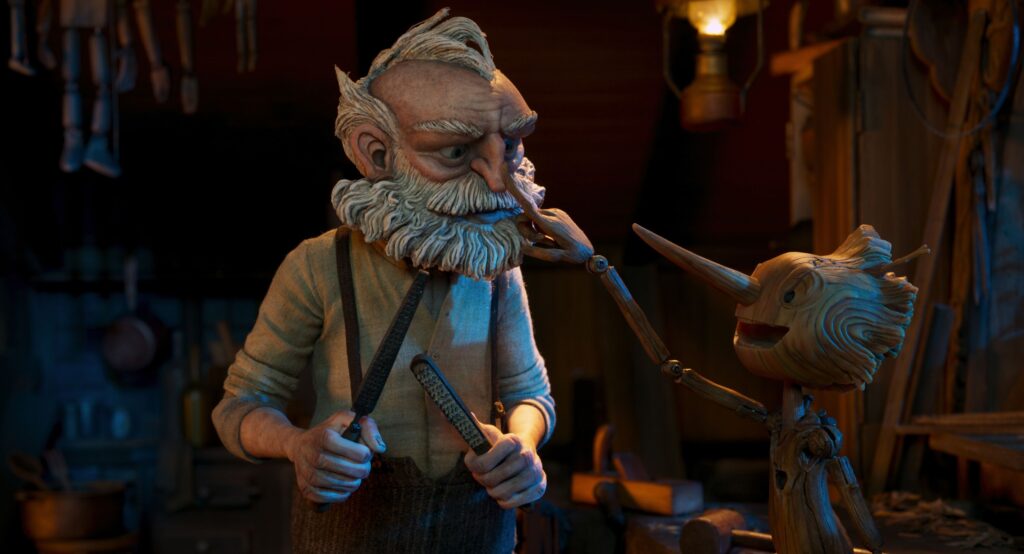 Sharing little in common other than character names with Disney's jovial and well-known adaptation, del Toro's take is more haunting and heartbreaking, and carries with it a sort of chilling nihilism that fits well with the era of its disturbing setting. An incredible crew and production team worked tirelessly on this film, including NYFA faculty member Tony Candelaria. To produce each frame of animation in the two-hour feature, 60 crews worked for 1000 days.
O Brother, Where Art Thou? (2000)
At first blush, you might not think that the Coen Brothers' comedy-drama about a trio of escaped convicts trying to stay one step ahead of the law while finding a treasure shares DNA with one of the pillars of human literature, but you'd be wrong. The film is a retelling of Homer's epic poem Odyssey (George Clooney's character is even named Ulysses) and features several direct lifts from the legendary story, from Sirens (the girls singing in the river), the Cyclops (John Goodman's one-eyed KKK leader), and even blind prophet Tiresias (the Blind Seer). Most importantly, Ulysses – like his namesake – is trying to get back to his wife and family and win her back from another suitor (suitors in the original).
Nine (2019)
Of course, adaptations aren't limited to just screens. There are many musicals based on popular films, such as Legally Blonde and The Wedding Singer. Another great example of a movie adapted into a show is Nine, a story that follows a creatively blocked writer. The story features a star-stacked cast of women, as a major part of the plot is how Guido daydreams about the women who have inspired him the most. Starring Daniel Day-Lewis, Marion Cotillard, Fergie, Kate Hudson, Nicole Kidman, and even the legendary Sophia Loren, the film is an easy adaption, as it was also a musical.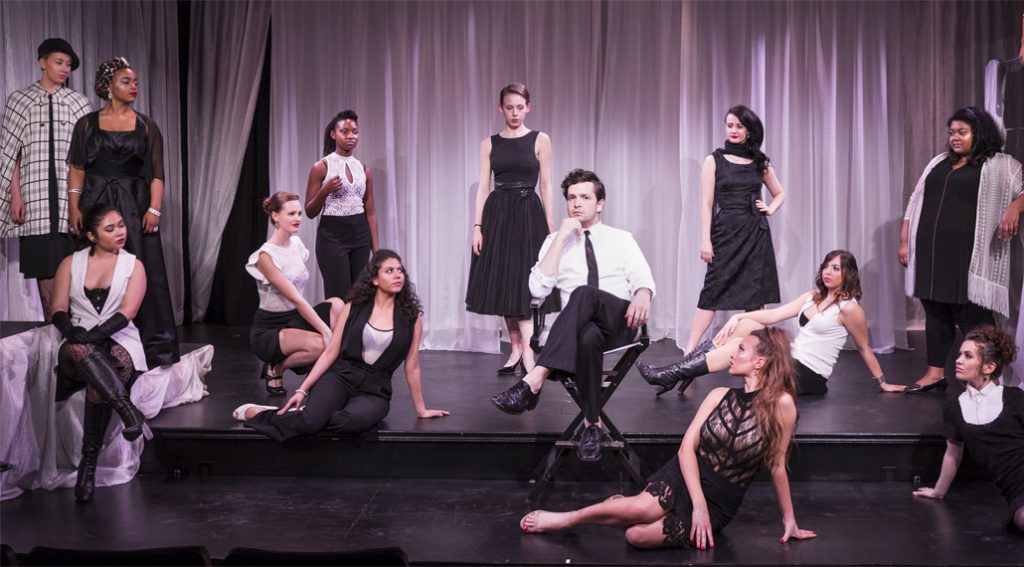 NYFA's Musical Theatre department even performed Nine (pictured above.) Another reason why Nine makes a great musical adaptation is the fact that Nine the film is also an adaptation. Based on the classic film 8 1/2, directed and co-written by Federico Fellini, Nine retold the avant-garde film as a musical, creating original songs such as "Be Italian" to capture the plot and character motivations of the original story. Of course, the Nine adaptation had the backing of a major studio, as it is not in the public domain.
Wicked (2024)
Speaking of musicals turned movies, fan-favorite Wicked, which premiered on Broadway, is set to receive the silver screen treatment in 2024. The film stars Jeff Goldblum, Michelle Yeoh of Everything, Everywhere, All at Once, Jonathan Bailey, Ariana Grande, Cynthia Erivo, and Bowen Yang. As NYFA's very own Kristy Cates, head of Musical Theatre at NYFA New York, starred as Elphaba in Wicked, appearing on Broadway, Chicago, and the first national tour, we're particularly excited to see this film unfold. Similar to Nine, Wicked is protected by copyright; however, many movie musicals are in the public domain and can be used as inspiration for new work.
Treasure Planet (2002)
Walt Disney's adaptation of Rober Louis Stevenson's seminal adventure Treasure Island, directed by John Musker and Ron Clements, flew sadly under the radar on its original release but since has come to be considered a forgotten gem in the Mouse's crown. By taking the original story of pirates and hidden treasure and adapting it into a space opera, Treasure Planet leverages stunning animation and production design to weave an epic tale of space "ships" on a race to find a fabled "Treasure Planet" with unimaginable riches.
Barbie (2023)
Barbie, aside from being a beloved toy, is also a series of movies for kids. In 2023, the first feature adaptation of Barbie will hit the screens. The film, which stars multi-talented Australian actress Margot Robbie, Ryan Gosling, NYFA alum Issa Rae, and NYFA Guest Speaker Simu Liu, is directed by Greta Gerwig and written by Greta Gerwig and Noah Baumbach.
The famous and controversial 'Aqua' song has also been revamped into a remix in the new Nicki Minaj & Ice Spice – Barbie World (with Aqua) music video. Specifically created for the Barbie movie, the music video was directed by NYFA alum Hanna Lux Davis.
Create Your Own TV and Movie Adaptations At NYFA
New York Film Academy's entire focus is on arming our students to produce electrifying visual art. Whether it's film, television, web series, podcasts, or any other medium you can imagine, you'll have a chance to tell your story your way, supported by some of the best creatives in the business in the form of our accomplished faculty. Maybe you'd like to set The Iliad in the world of harrowing WWI trench warfare or craft a sci-fi spin on Jack London's The Sea Wolf? Whatever television, new media, or movie adaptations you have in mind, we can help you make it a reality.
Feature image source: Byrdie.com.
by nyfa